Eureka! Entertainment have announced the release of A Letter to Three Wives, the classic Oscar nominated Hollywood comedy drama, written and directed by Joseph L. Mankiewicz (the director of All About Eve) who won the Oscars for Best Director and Best Screenplay for his work on the film. Starring Jeanne Crain, Linda Darnell, Ann Sothern as the 'three wives' who each receive a letter from their absent friend informing them that she has run off with one of their husbands, and featuring an early turn from Kirk Douglas.
The letter of the title is written with a poisonous pen: the three women (portrayed by Jeanne Crain, Linda Darnell, and Ann Sothern) receive a note stating that one of their husbands has run off with a woman named Addie Ross – which husband in particular, however, remains unmentioned, though each husband had their own affinity for Ross. And so amid the women's mounting anxiety commences a series of flashbacks, each telling the story of how the three individual marriages had come in their own way to be so strained at the present...
A spectacular success at the time of its release, A Letter to Three Wives was nominated for the Best Picture Oscar, and earned Mankiewicz the Academy Awards for both Best Director and Best Screenplay.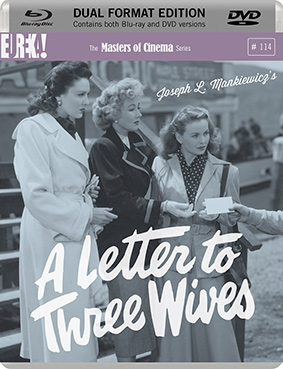 A Letter to Three Wives will be released on UK dual format (Blu-ray and DVD) on 29th June 2015 by Eureka! as part of the Masters of Cinema series at the RRP of £19.99.
Boasting a gorgeous 1080p presentation of the film on Blu-ray plus oorgeous 1080p presentation of the film on Blu-ray and optional English subtitles for the deaf and hard-of-hearing, the release will have the following extras:
Feature-length audio commentary with Mankiewicz biographer Kenneth Geist, film historian Cheryl Lower, and actor Christopher Mankiewicz, the director's son

Fox Movietone newsreel covering the Academy Awards ceremony

Original theatrical trailer

36-page booklet containing essays, interview material, and rare archival imagery