On 18th May, the BFI will release Charlie Chaplin: The Mutual Comedies as a 2-disc Limited Edition Blu-ray set and a 2-disc DVD package. Previously only available on 2 DVD volumes from the BFI, the films have been fully restored in High Definition and brought together in a single edition for the first time. The collection features music by acclaimed silent film composer Carl Davis and a raft of special features.
Charlie Chaplin entered the film industry in 1914. By 1916 he was the highest paid entertainer in the world after signing a contract with the Mutual Film Corporation for a salary of $670,000. Mutual built Chaplin his very own studio and allowed him total freedom to make 12 two-reel films during a 12-month period. Chaplin subsequently recognized that time as the most inventive and liberating of his career. These 12 films demonstrate the breadth of his abilities as both a physical entertainer and a subtle, endearing character actor.
Among the classics included here are The Immigrant, which endures as a comic masterpiece; Easy Street, a watershed moment in Chaplin's career; The Floorwalker, which shows his inventive and balletic use of mechanical props; The Vagabond, where he successfully combines pathos and comedy to create a lyrical love story; and The Pawnshop, which is famous for the hilarious routine in which he dissects an alarm clock.
On Friday 15 May at 7.30pm the Cinema Museum in London SE11 will screen three of the Mutual films with an introduction by Carl Davis. More details on this free special event are here:
http://www.cinemamuseum.org.uk/2015/chaplin-the-mutual-comedies/
The Mutual Comedies included in this set are:
The Floorwalker
The Fireman
The Vagabond
One A.M.
The Count
The Pawnshop
Behind the Screen
The Rink
Easy Street
The Cure
The Immigrant
The Adventurer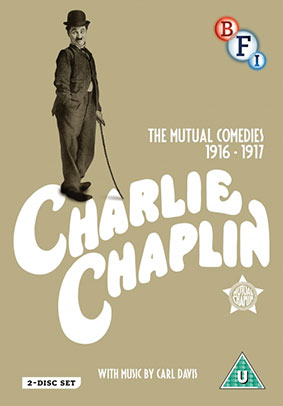 Charlie Chaplin: The Mutual Comedies will be released on 2-disc UK DVD and as a Limited Edition 2-disc Blu-ray box set by the BFI at the RRP of £24.99 for the DVD set and £29.99 for the Blu-ray.
All of the films have been restored in High definition and have Carl Davis scores, but will also include alternative scores for each film by a range of composers including Neil Brand, Antonio Coppola and Stephen Horne.
The release will have the following extra features:
Audio commentaries for all films by Frank Scheide, Glenn Mitchell, Dan Kamin, Hooman Mehran, Bryony Dixon, Michael Hayde and Carl Davis

Chaplin Signs the Mutual Contract (1916, 25 secs): documentary short

Charlie on the Ocean to England (1921, 5 mins): Topical Budget newsreel

An Interview with Carl Davis (2003, 9 mins): the composer discusses Chaplin

Illustrated booklet with new essays by Michael J Hayde, Dan Kamin, Glenn Mitchell and Carl Davis; full film credits
Here's a short clip from the restored print of Easy Street. Switch to 1080p and go full screen to see just how good the restoration is here: