Third Window Films have announced the UK DVD release of Be My Baby (Koi no uzu, also known as The Vortex of Love), a special 'workshop' film from Japan.
Made by an actors' workshop featuring all newcomers under the supervision of director Hitoshi One (Love Strikes!), it was all made in just 4 days for a budget of less than $10,000.
Unfolding in the two weeks following a casual party at the home of the overbearing Koji, nine '20-something' Japanese revellers with long, deeply entwined histories navigate the secrets and lies of contemporary relationships. Touching on issues of self-respect, emotional manipulation, casual viciousness, petty interpersonal politicking, dependency, insecurity, infidelity and misogyny, One Hitoshi's drama is as dark as it is soapy — with unfortunately recognisable characters with recognisable human flaws.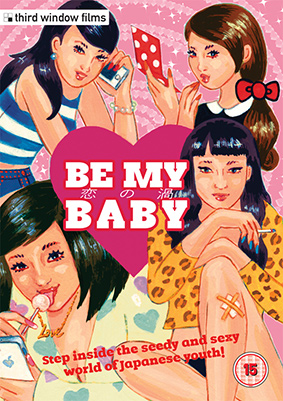 Be My Baby will be released on UK DVD by Third Window Films on 25th May 2015 at the RRP of £12.99
Special features will include:
Girls Talk – Pajama party with female cast of the film

Interview with producer Masashi Yamamoto

Theatrical trailer