Simply Media have announced a further five titles from Hollywood's somewhat more golden era, each of them from the Cohen Film Collection. All five will be released on UK DVD on 25th May 2015, each at the RRP of £12.99. None of the discs appear to have any extra features.
As usual, Simply Media themselves have provided considerable detail on each of the titles, which we have reproced below for your edification.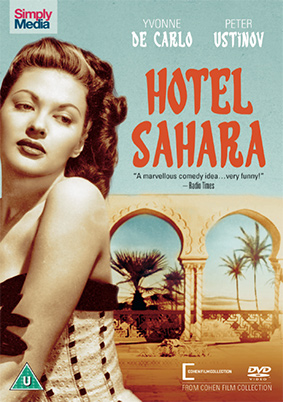 Hotel Sahara (1951)
Poor Emad. All he wants to do is run his luxury hotel, whilst protecting the modesty of his gorgeous and tempestuous fiancée Yasmin – but with WWII raging around them, it's looking increasingly impossible. Located in exactly the wrong place during the North Africa Desert campaign, the illustrious Hotel Sahara must change its appearance and attitude for its visitors every time the tumultuous territory changes hands – with hilarious results!
Emad (played by the splendid Peter Ustinov – Spartacus, Death on the Nile) and his fiancée Yasmin (Yvonne De Carlo – The Ten Commandments) are run ragged changing the hotel's appearance, attitudes and allegiances. From hanging portraits of Mussolini to belly dancing soirées, there's nothing they won't do to keep their hotel safe.
The beautiful Yasmin wins every army's heart with her soothing singing and seductive dance moves. Whether British, Italian, French, German, or Arabic the foursome try to please them all.The comedy comes to a hilarious conclusion when all sides arrive at once, with a comedy shoot-out so intense, they don't even realise that the war is over.
Hotel Sahara met with a surprisingly long-lived fan base in Germany upon its release in 1951, and ran in cinemas there for years. Unusually for a WWII flick, director Ken Annakin put the success of the film in Germany down to the fact that "it was the first film to show that many Germans were human beings, serving just like other soldiers."
Writer George Brown was the reason starlet Yvonne De Carlo agreed to be in the film, saying, "what excited me about this project was the letter I had received from George Brown. He said he had seen all my films and saw by the sparkle in my eye that I could play comedy. I was really grateful for the comment, as I had been hoping for years that someone in America would see similar potential."
George Brown's feelings about De Carlo were shared by director Ken Annakin. He recalled working with the actress fondly, remarking; "I remember Yvonne with very warm and positive feelings. There was a warmth and sexiness which came out in everything she did, and that is what was irresistible to audiences. Like most top actresses, she needed direction and support, but her objective was always to be equal to the stars around her, especially the males. To my mind in Hotel Sahara...she achieved this."
Brown wasn't the only interesting George connected to the shoot. Ken Annakin was such a popular director in the professional circuit that the character Anakin Skywalker from Star Wars was named after him, after Alec Guinness suggested the name to George Lucas.
The perfect accompanying score to this romantic, comedic and high-spirited film was created by Benjamin Frankel, a noted composer also responsible for Battle of the Bulge, The Night of the Iguana, The End of the Affair and The Importance of Being Earnest.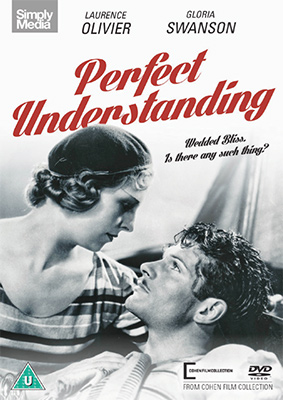 Perfect Understanding (1933)
Young couple Judy and Nicholas think they've stumbled upon the ideal marital formula with their 'perfect understanding'. They agree to never disagree, to maintain total independence and to 'never be husband and wife, but lover and mistress'. The pair's blissful union soon stumbles when Nicholas admits to having an affair whilst in Cannes. Guilt stricken, he confesses his folly and a broken Judy is forced by the terms of their agreement to forgive him.
Stung by his betrayal, the opportunity to get even soon becomes apparent when her confidant Ivan offers to help her settle the score in the bedroom.Will Judy choose to settle the score, or will she and Nicholas rediscover the love that first brought them together?
Packed full of high society high jinks, Perfect Understanding stars silent film goddess Gloria Swanson (Sunset Boulevard, Sadie Thompson) and an early lead role for four time Oscar winner Sir Laurence Olivier. Shot in Cannes and at the famous Ealing Studios in England, Swanson co-produced as well as starred in the film, which was to be her first and last in Britain. Lush cinematography from Curt Courant of pre-WWII Europe adds to the rose tinted appeal of this quirky screwball love story.The script was penned by Michael Powell, who would go on to direct The Red Shoes, Peeping Tom, Black Narcissus, and The Tales of Hoffmann.
Perfect Understanding brings together a couple from dividing sides of cinematic history. 34-year-old Gloria Swanson was a silent movie starlet and at the peak of her career – she had been nominated in the first ever Oscars ceremony, during the Golden Age of Hollywood. Conversely Laurence Olivier had only ever performed in talkies, and at a sprightly 25 had only been in seven pictures! Despite coming from such different theatrical backgrounds, the pair has sizzling chemistry in this high society romp.
Nowhere is this chemistry more evident, or entertaining, than in the honeymoon scenes. For the sake of the 1930s censorship, erotic undertones are hilariously hinted at through a frustrated waiter halted by their 'do not disturb' sign, a kettle whistling its heart out unnoticed and toast burning at a neglected breakfast table before a cut to shots of a train driving into a tunnel. The tongue in cheek, self awareness of moments like this give the film its light hearted spirit, whilst the early musical number I Love You So Much I That I Hate You firmly sets the screwball tone.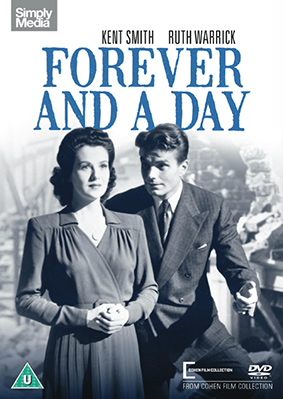 Forever and a Day (1943)
This family saga was Hollywood's thank you to Great Britain for its role in WWII and features an all-star cast of performers and directors (including an unaccredited Alfred Hitchcock) as well as the most writers ever attributed to a single film.
During World War II an American reporter, Gates Trimble Pomfret (Kent Smith) heads to London during the Blitz in order to sell his ancestral family house. The current tenant and his distant cousin, Lesley Trimble (Ruth Warrick). Shocked by Pomfret's plan to sell, Trimble tells him the tales of the people who have loved, lost and laughed in the house's 140-year history. As the story of the house is brought to life, the intimate connections between the Trimble and Pomfret families are revealed...
The supporting stars include Victor McLaglen, Billy Bevan, Ethel Griffies, June Lockhart, C. Aubrey Smith, Edmund Gwenn, Ray Milland, Claude Rains, Charles Loughton, Buster Keaton, Edward Everett Horton, Brian Aherne, Merle Oberon, Richard Haydn, Nigel Bruce, Robert Cummings, Buster Keaton and many more...
Forever and a Day is deeply sentimental and presents a touchingly warm American tribute to the work of Great Britain in the Second World War. The countless stars in this ensemble piece all played their parts for free, as did the many directors and numerous writers (the most ever credited to a film), preferring to donate the profits from the film to the National Foundation for Infantile Paralysis. So willing were the stars of Golden Age Hollywood to contribute to this project, that many gave up days for only seconds of screen time. Patric Knowles (The Charge of the Light Brigade, The Adventures of Robin Hood) for example appeared on screen for just 10 seconds, and with just one line.
The seven credited directors were René Clair (À Nous la Liberté), Cedric Hardwicke (The Hunchback of Notre Dame, The Ten Commandments), Edmund Goulding (Grand Hotel), Frank Lloyd (Mutiny on the Bounty), Victor Saville (The Silver Chalice), Robert Stevenson (Mary Poppins) and Herbert Wilcox. The writers included Charles Bennett (The 39 Steps), Norman Corwin (Lust for Life), Alfred Hitchcock (Psycho), Michael Hogan (Arabian Nights), WP Lipscomb (Pygmalion), Donald Ogden Stewart (The Philadelphia Story), John Van Druten (Cabaret) and many more besides.
As a film about war, Forever and a Day was not untouched by its effects. Production interrupted the shooting schedule, which meant 18 months passed before the picture was wrapped. In several cases, stars were temporarily excused in order to visit hospitals, entertain wounded troops or even join the armed forces themselves.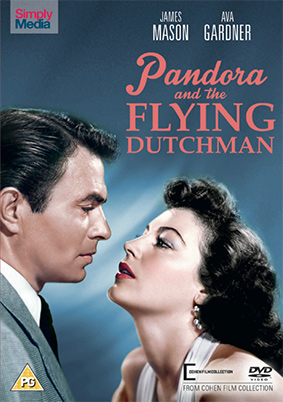 Pandora and the Flying Dutchman (1951)
Albert Lewin (The Picture of Dorian Gray) directs this heady romantic tragedy, starring Hollywood gold dust James Mason (Lolita, Julius Caeser) and Ava Gardner (Mogambo, The Night of the Iguana).
In 1930s Spain, fishermen make a grisly discovery. The bodies of a man and woman are entangled in their nets. This is the tragic story of that couple. The enigmatic, ruby-lipped singer Pandora Reynolds is fascinated by danger and destruction, and has the men of a small Spanish town driven to distraction. One suitor is so desperate for her affection, he poisons himself before her. When she eventually agrees to marry kindly racing driver Stephen Cameron, the siren insists he proves his love for her by pushing his beloved car off a cliff.
Just when Stephen thinks he has finally won Pandora's heart, a mysterious man named Hendrick van der Zee arrives in town, the sole occupant and captain of a mysterious yacht. It soon becomes apparent that Hendrick is the Flying Dutchman of legend, who has been condemned since the 17th century to roam the seas eternally for murdering his wife. Every seven years the Dutchman is permitted to find land, in order to search for a woman who might love him enough to die for him and so release him from his curse.
Pandora and the Flying Dutchman was director Albert Lewin's envisioning of the Flying Dutchman legend that also inspired the hugely successful Pirates of the Carribean franchise, starring Johnny Depp. Unlike the Disney adventure, Lewin's Flying Dutchman is a man rather than a ship, played by Hollywood icon James Mason. Using elements of the nautical legend of a cursed crew, Lewin tells the story of a 17th century captain named Henderick van der Zee (meaning 'of the sea' in Dutch) who must stay aboard his ship until he meets a woman willing to give her life for him.
Martin Scorsese oversaw the restoration of the film back in 2010, which was met with delight by critics. The Guardian called "Albert Lewin's deliriously romantic, richly woven tapestry" a "Technicolor dream" whilst Time Out said the film exemplified "the true magic of Lewin's cinema." Indeed Time Out went on to claim "The Flying Dutchman tale enshrines a vision of desire stronger than death...Lewin brings off the near impossible task of positing a transcendent love in a sceptical age, succeeding through his own conviction, and indeed because Gardner, in the role of a lifetime, seems as much screen goddess as mere mortal."
The Independent praised Jack Cardiff's impeccable cinematography, calling it "photography that's edibly lush". Cardiff would go on to win an honorary Oscar for his contribution to cinema and it's not hard to see why. The genius behind the look of The Red Shoes, Black Narcissus and War and Peace gives Pandora and the Flying Dutchman its unforgettable Mediterranean look.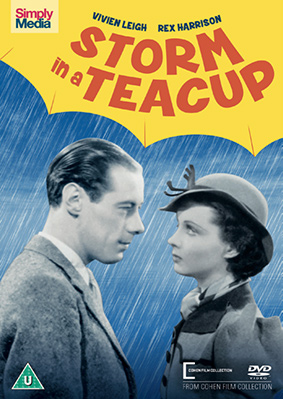 Storm in a Teacup (1937)
This Scottish romantic comedy of manners starring Oscar winners Vivienne Leigh (Gone With the Wind) and Rex Harrison (My Fair Lady) is screwball at its finest.
Hotshot reporter Frank Burdon is thrilled to land a job at the only newspaper in the wee Scottish town of Baikie. His first assignment is to interview the local politician, wealthy William Gow, who is running for Parliament. Unlike his glowing reputation, Burdon is shocked to find that Gow has no sensitivity. The final straw comes when the Politician refuses to speak to a destitute ice cream vendor, whose dog he impounded when she could no longer afford to pay the licence. Indignant, Burdon's puff piece begins to take another direction... Despite himself, Burdon can't help but fall for Gow's beautiful daughter Vickie. When his article breaks, hundreds of British press descend on the tiny town, and when a pack of dogs, including Honoria's hound, are set free, how will Burdon convince the Court of his innocence?
This rare British foray into the Screwball genre sees Rex Harrison take his first starring role. If you don't watch Storm in a Teacup for the hilarious script, impeccable acting, adorable doggy talent or fascinating anti-fascist undercurrents, watch it to see two burgeoning Hollywood icons at the very start of their huge careers.
Often hailed as the first British comedy of the sound era, Storm in a Teacup was an important film for its star Rex Harrison. His first big screen role, Harrison credits the film, and especially director Victor Saville with forming him as an actor.
In his memoirs, the Oscar winner claimed that Saville; "made you uncare, so that you started to unwind, to speak the lines casually and naturally, and to think for the camera. It was really Victor...who started me out, and not by saying anything, simply by being himself."
It wasn't only professional reasons that made the film important to Harrison. In the course of filming, he also found himself falling head over heels for his co-star, Vivien Leigh. Sadly for Rex, she was already smitten with one Laurence Olivier, and frequently went straight from filming to watching him perform as Hamlet on London's West End. Always the gentleman, Harrison provided a listening ear and a comforting shoulder throughout filming, and would be a frequent guest and firm friend at the Olivier household when the pair finally married.
Victor Saville also provided advancement to Leigh's career in the course of production. Having taken considerable time off due to illness, Saville found himself reading at a great rate during the filming of Storm in a Teacup. His favourite novel during this time was Gone With the Wind, which he recommended to Leigh, stating that the leading role would be perfect for her if she weren't English, as Hollywood would surely never look overseas to cast their Scarlett O'Hara...