One of the most talked about Korean films of 2014, the acclaimed indie teen drama Han Gong-ju is based on a devastating real-life case of sexual violence that shocked Korea in 2004. The first feature from writer-director Lee Su Jin, Han Gong-ju broke Korea's opening day box office records for independent films and has picked up numerous accolades on the festival circuit including the Tiger Award at the 43rd International Film Festival Rotterdam, the Grand Prix at the Marrakech Int. Film Festival and many more.
In a breakout role that garnered her Best Actress at the Blue Dragon Film Awards, Chun Woo Hee plays the eponymous heroine, a glum high school girl who has been forced to transfer to a school in another city. With her own family nowhere to be found, Gong-ju is placed into the care of a teacher's mother while matters are being sorted out. She quietly starts up school again, only hoping to keep to herself and not stand out. When Gong-ju's new classmates discover her singing talent, they try their best to recruit her into the choir. Just as Gong-ju begins to smile again and open up to new friends, the past catches up and the harrowing reason for her transfer gradually comes to light.
Martin Scorsese said of the film: "Han Gong-ju is outstanding in mise-en scene, image, sound, editing and performance. I have a lot to learn from this movie and I can't wait to see Lee Su-jin's next film."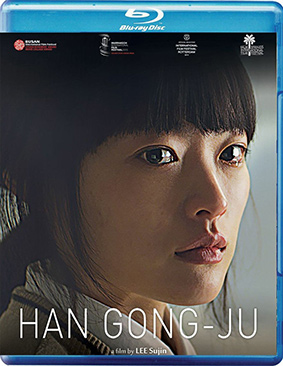 Han Gong-ju will be released on UK Blu-ray and DVD on 13th April 2015 by Third Window Films at the RRP of £19.99 for the Blu-ray and £14.99 for the DVD.
The special features will include:
Enemy's Apple: Lee Sujin's award-winning 20 minute short film