Arrow Video has announced the release of Blood and Black Lace, the film which spearheaded the giallo genre, provided the now-famous prototype for the slasher movie, and has since gone on to become a huge influence on filmmakers as diverse as Dario Argento and Martin Scorsese. The disc features a brand-new 2K restoration of the film from the original camera negative, alongside newly translated subtitles for the Italian audio and a new audio commentary by Mario Bava's biographer Tim Lucas.
New featurettes include Psycho Analysis, a new documentary on Blood and Black Lace and the origins of the giallo genre featuring interviews with directors Dario Argento (Suspiria) and Lamberto Bava (Demons) amongst others. Alongside this, an appreciation by Hélène Cattet & Bruno Forzani, the creative duo behind Amer and The Strange Color of Your Body's Tears will also be included as will Yellow, the much-acclaimed neo-giallo by Ryan Haysom & Jon Britt.
Further features will include Gender and Giallo, a visual essay by Michael Mackenzie exploring the giallo's relationship with the social upheavals of the 1960s and 70s and a panel discussion on Mario Bava featuring Dario Argento, Lamberto Bava and Steve Della Casa, recorded at the 2014 Courmayeur Film Festival.
Furthermore an episode of David Del Valle's television series, The Sinister Image, devoted to Cameron Mitchell, the star of Blood and Black Lace will be included and presented in full, along with the alternative US opening titles, sourced from Joe Dante's private print and scanned in 2K especially for this release.
This jam-packed disc will be rounded off with the original theatrical trailer and a collector's booklet featuring new writing on the film by Howard Hughes, author of Cinema Italiano and Mario Bava: Destination Terror, an interview with Joe Dante, David Del Valle on Cameron Mitchell and more, all illustrated with archive stills and posters.
Newly restored from the original camera negative and presented here in its original, uncut Italian form, this dual-format release allows fans to see Blood and Black Lace afresh and offers newcomers the ideal introduction to a major piece of cult filmmaking.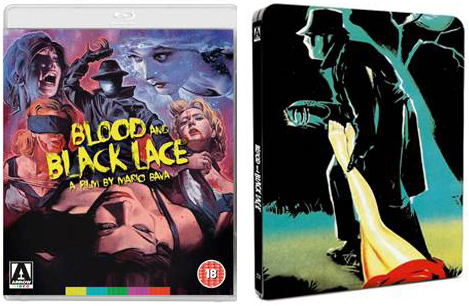 Blood and Black Lace, Mario Bava's classic piece of Italian cinema, will be released on 16th April 2015 by Arrow Video as both a deluxe Blu-ray & DVD and also as a limited edition SteelBook featuring an updated version of the original iconic artwork, at the RRP of £24.99 for the dual format edition. We don't have a price yet for the Steelbok Edition.
Featuring a brand new 2K restoration of the film from the original camera negative, optional Italian and English soundtracks presented in original uncompressed mono PCM audio, newly translated subtitles for the Italian audio and optional English subtitles for the deaf and hard of hearing for the English soundtrack, the release will have these extras:
Brand new audio commentary by Mario Bava's biographer Tim Lucas

Psycho Analysis – a new documentary on Blood and Black Lace and the origins of the giallo genre featuring interviews with directors Dario Argento (Suspiria) and Lamberto Bava (Demons), screenwriter Ernesto Gastaldi (All the Colors of the Dark) critics Roberto Curti and Steve Della Casa, and crime novelists Sandrone Dazieri and Carlo Lucarelli

An appreciation by Hélène Cattet & Bruno Forzani, the creative duo behind Amer and The Strange Color of Your Body's Tears

Yellow – the much-acclaimed neo-giallo by Ryan Haysom & Jon Britt [Blu-ray exclusive]

Gender and Giallo – a visual essay by Michael Mackenzie exploring the giallo's relationship with the social upheavals of the 1960s and 70s

Panel discussion on Mario Bava featuring Dario Argento, Lamberto Bava and Steve Della Casa, recorded at the 2014 Courmayeur Film Festival

The Sinister Image: Cameron Mitchell – an episode of David Del Valle's television series, devoted to the star of Blood and Black Lace and presented in full

The alternative US opening titles, sourced from Joe Dante's private print and scanned in 2K especially for this release

Original theatrical trailer

Collector's booklet featuring new writing on the film by Howard Hughes, author of Cinema Italiano and Mario Bava: Destination Terror, an interview with Joe Dante, David Del Valle on Cameron Mitchell and more, all illustrated with archive stills and posters