On 4th May the BFI will release a 3-disc Blu-ray set of films by innovative New York-based filmmaker Bill Morrison. Selected Films 1996-2014 includes 2002's Decasia, which was released in cinemas in the UK to much acclaim. Morrison's exquisite and timeless films are scored by the cream of the US avant-garde classical and jazz scenes, including Michael Gordon, David Lang, Julia Wolfe, Dave Douglas, and Bill Frisell.
Over the past twenty years, Bill Morrison has built a filmography of more than thirty striking and original works which have been presented in cinemas, museums, galleries and concert halls worldwide. Making use of archival footage, which has often been decayed by the passing of time, Morrison explores the power of film as a medium which is evocative of memory and gives rise to a sense of collective mythology.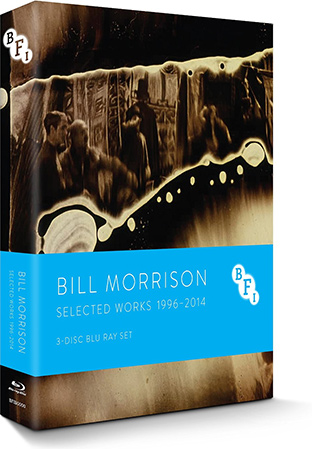 Bill Morrison: Selected Films 1996-2014 will be released in the UK as a 3-disc Blu-ray set on 4th May 2015 by the BFI at the RRP of £49.99.
The films included will be:
Disc 1
The Film of Her (1996, 12 mins)
City Walk (1999, 6 mins)
Ghost Trip (2000, 23 mins)
Decasia (2002, 67 mins)
The Mesmerist (2003, 16 mins)
Light Is Calling (2004, 8 mins)
Outerborough (2005, 9 mins)
Porch (2006, 9 mins)
Disc 2
Highwater Trilogy (2006, 31 mins)
Who By Water (2007, 18 mins)
Spark of Being (2010, 67 mins)
Release (2010, 13 mins)
Just Ancient Loops (2012, 26 mins)
Disc 3
Re: Awakenings (2013, 18 mins)
The Great Flood (2013, 78 mins)
Beyond Zero: 1914-1918 (2014, 41 mins)
Back to the Soil (2014, 18 mins)
Special features:
Bill Morrison: The Film Archaeologist (2013, 9 mins)

Extensive illustrated booklet featuring essays by Lawrence Wechsler, Alex Ross, Gareth Evans, Geoffrey Himes, Sukhdev Sandhu, Steve Dollar and Matt Levine
You can read our cinema review of Decasia here.

An Evening with Bill Morrison – Blu-ray launch event at Rough Trade East on Wednesday 22 April at 7.00pm with special guest Bill Morrison
This release will be at launched at Rough Trade East, Brick Lane, E1 on Wednesday 22 April when Bill Morrison will present four of his short films followed by a Q&A, hosted by Gareth Evans, Film Curator at the Whitechapel Gallery. More details here: www.roughtrade.com/events/2015/4/1152