Wartime Germany: Marie, a concentration camp escapee on the run from the Nazis, narrowly escapes drowning when she is rescued by Wolfe Kristan - a half-mad lighthouse keeper. Brought aboard the lighthouse itself, she begins to fall in love with the assistant keeper who, unknown to her, is a British spy. As the couple become more intimate, Kristan's jealously finally pushes him over the brink and into full-blown madness.
The film features a career-best performance from Wilfrid Lawson (Nothing Barred) – as the deranged, hook-handed lighthouse keeper – alongside Hollywood stalwart Michael Rennie (The Day The Earth Stood Still) and Mexican-American actress Movita Castaneda (Flying Down to Rio).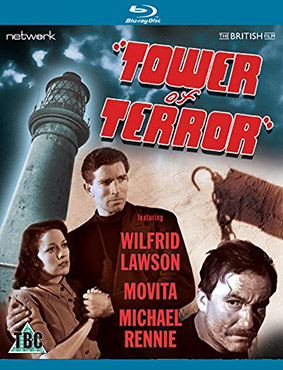 Tower of Terror will be released on UK Blu-ray and DVD on 23rd March 2015 by Network Distributing as part of 'The British Film' collection at the RRP of £14.99 for the Blu-ray, and £9.99 for the DVD.
This intriguing, genre-defying WWII thriller is presented here in a brand-new transfer from the original film elements, in its as-exhibited theatrical aspect ratio.
Extra features will be: