John Byrne's Your Cheatin' Heart is the classic Scottish country and western series that helped make a star of Tilda Swinton. And now, 25 years after it first aired, it finally comes to DVD for the very first time thanks to Second Sight.
This six-part series explores the country music scene in an unsentimental portrayal of Glaswegian life and culture. Local food and wine correspondent Frank McClusky falls in love with waitress Cissi Crouch. Unfortunately for him, she's the wife of a convict, who is serving time for a crime he didn't commit. As Frank's life becomes more embroiled with Cissi's he goes on a mission to track down the guilty men.
Gregory's Girl's John Gordon Sinclair stars opposite Swinton in the lead roles, alongside Eddi Reader (Love & Sex), Peter Mullan (Tyrannosaur) and Ken Stott (The Missing) in this outstanding classic British drama.
Created by writer John Byrne, as his follow up to the acclaimed and hugely successful Tutti-Frutti, the new DVD release features stunning newly created original artwork from Byrne who is also an artist.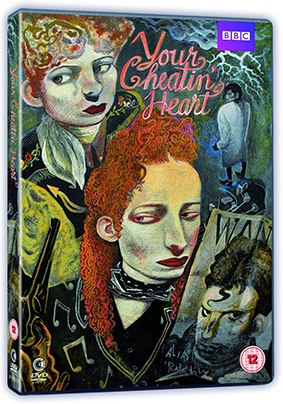 Your Cheatin' Heart will be released on UK DVD on 4th May 2015 by Second Sight at the RRP of £19.99.
Bonus features will include:
Interview with John Byrne
Here's a clip: