Horror legend and the star behind the one of the most feared and notorious characters in horror history, Robert Englund (Freddy Kruger in A Nightmare on Elm Street) stars in Fear Clinic, the work of Lightning Bug and Laid to Rest director Robert Hall.
Based on the popular webseries from FEARnet.com, Dr Andover (Englund) is a brilliant scientist and psychiatrist, who has developed an innovative new treatment to cure phobias through his, 'Fear Chamber.' Patients are put into complete isolation and must face their worst fears in nightmarish hallucinations, to overcome them. However soon after treatment and outside the confines of the chamber, they discover their fears are not only still there, but are more real than ever...
Also starring Fiona Dourif (Curse of Chucky), Thomas Dekker (A Nightmare on Elm Street remake) and Slipknot's Corey Taylor in his debut feature film role, face your fears and phobias at the Fear Clinic.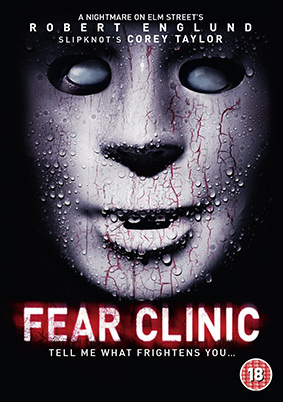 Fear Clinic will be released on UK DVD on 30th March 2015 by Anchor Bay Entertainment at the RRP of £15.99.
No extra features have been listed.