Simply Media have snnounced a further four titles from MGM's Hollywood Classics collection for UK DVD release in April, two westerns from the 1950s – Escort West and Fort Massacre – and two dramas from the 1960s – Woman of Straw and The Group. All appear to be movie-only discs and will be released on 6th April 2015 at the RRP of £12.99 each.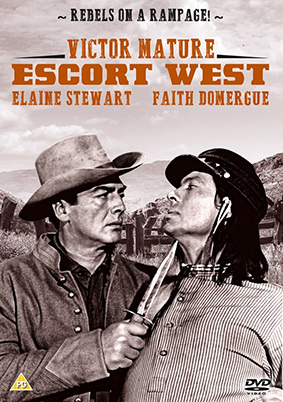 Escort West (1958)
Victor Mature (My Darling Clementine) stars in this roaring Western from John Wayne's Batjac Productions.
Ben Lassiter is a former Confederate soldier travelling to the Western US with his daughter, following the Civil War. Their journey is soon interrupted by a group of patrolling Union soldiers, and the shadow of the recent war proves hard to shake off. Elaine Stewart (Brigadoon, The Bad and the Beautiful) co-stars as Beth Drury, a pretty young woman riding alongside the soldiers on her way to meet her fiancé, a cavalry officer. Her chemistry with Lassiter proves undeniable, and the pair becomes romantically attached. When Native Americans attack, Ben guides Beth to the safety of the cavalry camp, only to find it besieged. After Beth's rabid anti-Confederate sister arrives, things only get more complicated. Ben must battle heroically to save the woman he loves – and the man she's going to marry.
Victor Mature had a penchant for playing cocky self-confident heroes and Escort West proved no exception. These roles couldn't be further from the true nature of the self-deprecating star, who frequently used interviews to make prolonged jokes at his own expense. The Independent reports Mature telling a story of a country club who refused to admit actors: "Hell I'm no actor, and I've got 28 pictures and a scrapbook of reviews to prove it." Truth told however, Mature was a hugely successful Hollywood star and an early 50s sex symbol, once described as 'a beautiful hunk of man'.
Oscar winning editor Francis D. Lyon directed the picture, which is particularly notable for its array of impressive stunt work, especially involving horses and snakes. Fred Carson, who doubled for Victor Mature, went on to become life long friends with the actor and they starred together in many other projects. Mature didn't enjoy stunt work, and refused to place his head in a tooth-less lion's mouth on the set of his early flick Samson and Delilah because "I don't even want to be gummed!" Despite reliance on stunt doubles, and indoor film sets, this is an incredibly authentic Western, of the standard one would expect with John Wayne's brother at the helm of production.
With an epic score from composer Henry Vars (Flipper), Escort West is a thrilling, dramatic story of the Old West.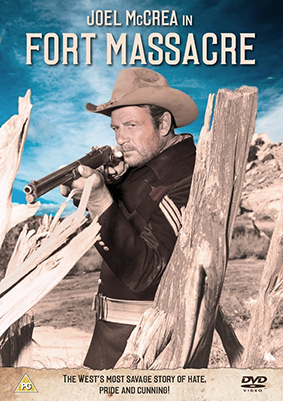 Fort Massacre (1958)
From Walter Mirsch, the Oscar winning producer of The Magnificent Seven, The Great Escape and West Side Story, comes this offbeat psychological Western, with an anti-racist statement at its core.
Joel McCrea (Sullivan's Travels) plays against type as Sergeant Vinson, the only non-commissioned officer left alive after a Native American attack decimates his entire troop. The few survivors include Robert Travis (John Russell) a college-educated drifter, and McGurney (Forrest Tucker) an anti-authoritarian Irishman. Vinson decides that to save his men he must lead them through Native American territory to reach their fort. The troop begins to suspect, however, that Vinson's hatred for the Apaches, sparked by the brutal slaying of his wife and children several years ago, may be the real reason for the perilous shortcut. As the men travel through treacherous territory, isolated and outnumbered, will Vinson's hatred finally consume him?
Though Joel McCrea didn't start out as a Western hero, he claimed his ambition since boyhood had been to either become a cowboy, or play one. In fact, this popular leading man loved the Old West lifestyle so much, he invested his Hollywood earnings into a ranch and livestock, listing "rancher" on his tax returns, and referring to acting a hobby. The all-American actor made eleven Westerns between 1946 and 1953 and after this period, decided he would never make act in a different genre, going on to make seventeen more cowboy pictures before his retirement.
This moody study of racial hatred was the first film released by Walter Mirsch's production team was directed by Joseph M Newman (This Island Earth, The Alfred Hitchcock Hour) and costumed by the masterful Bert Henrikson (Some Like it Hot, The Great Escape, West Side Story).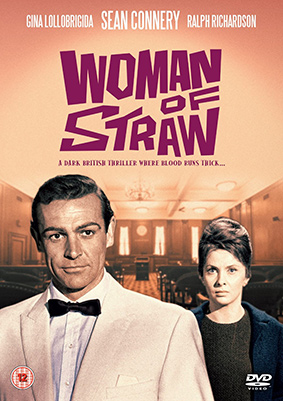 Woman of Straw (1964)
The original James Bond, Sean Connery, stars as Anthony Richmond, a money-hungry man enraged that his dying uncle, a ruthless tycoon, doesn't intend to include him in his will. Instead, Charles Richmond (Ralph Richardson) plans to donate his sizeable fortune to charity. Not only did his uncle steal half of the family business, he also married Anthony's mother after his father committed suicide. As Charles's condition deteriorates, a poor Italian nurse named Maria (Gina Lollobrigida) is hired to care for him. Maria hates the tycoon for the way he abuses his staff, but Anthony convinces her to stay. Together they hatch a plan to entice Charles to marry Maria and bequeath his fortune to her. Everything seems to be going to plan until Charles suddenly dies. Anthony finds himself the prime suspect in a murder trial...
From Ealing Studios director, Basil Dearden (Dead of Night, The League of Gentlemen) and featuring stunning cinematography from Otto Heller (The Ladykillers, Alfie), this dark British melodrama was a landmark film in Sean Connery's career. His first picture since his casting as James Bond, it was made the year after From Russia With Love and shows him making a conscious effort to avoid typecasting. Notably one of Connery's only innings playing 'the bad guy', the actor was paid a cool $1million for the film compared to the $6000 he made from his Bond debut, Dr. No, just two years previously! By this 1964 release, Sean Connery had become a Hollywood icon.
Known in the business for his detailed and disciplined approach to work, Connery struggled with his tardy co-star, Gina Lollobrigida who often arrived on set late and insisted on having her say in the shaping of the production. The National Enquirer quoted Connery erupting on set, saying, "either he's [Basil Dearden] directing the picture or you are. If it's you, I may not be in it." Perhaps Lollobrigida had the last laugh. Today she is frequently noted by film critics as a feminist forerunner, refusing to play pushover, stereotypical characters and simply editing her scripts or working to her own direction when she did. The former Italian beauty queen later ran for public office, and earned herself a fierce reputation as a photojournalist. Lollobrigida beat the press to the first TV documentary with Fidel Castro and interviewed numerous other figureheads including Henry Kissinger and Neil Armstrong.
Standout performances come from all corners of the cast, and Turner Classic Movies described Ralph Richardson's character, the tyrannical Charles, as: "An industrial-strength Scrooge, without Marley's ghost and a Tiny Tim to help him get over himself...nobody could quite put a mad gleam in his eye the way Richardson did."
The Group (1966)
From visionary director Sidney Lumet (12 Angry Men, Network) comes an ensemble delight about female friendship, taboo and affection, based on the sparkling novel by Mary McCarthy. Starring Carol Bergen, Joan Hackett, Elizabeth Hartman, Lucille Bluth and Joanna Pettet in her film debut.
Sex and the City writer Candace Bushnell said, 'The Group reminds us that not much has really changed', and it's not hard to see why as the film covers such wide-ranging topics as free love, contraception, Trotskyism, abortion, lesbianism, alcoholism, abuse and mental illness.
Filmed in New York and Manhattan, the story charts the lives of eight young women who graduate from an exclusive college in the middle of The Depression. There's Lakey, who returns from her travels with a girlfriend, Dottie, a repressed socialite Kay who marries a playwright and the wealthy Kathleen who insists on proving her value in the workplace. Also in tow are the perpetually pregnant Pokey, gossiping Libby, wannabe doctor Polly and darling of the Manhattan literary set, Priss.
Sumptuously filmed by Oscar winning cinematographer Boris Kaufman (12 Angry Men) with gorgeous costumes from Anna Hill Johnstone (The Godfather), this treat is delightful to the eyes and warming to the heart.