Life is strange and worrying for Arthur Grimble when, with his bride Olivia, he arrives on an island in the Pacific as a cadet in the Colonial Service. The testy resident commissioner, who had been expecting an experienced man, soon shows his disapproval; but will Arthur and his young wife succeed in winning the hearts and minds of the island's people?
Denholm Elliott (Trading Places, A Room With a View), Susan Stephen (Cocktails In The Kitchen, Three Spare Wives) and Michael Hordern (Gandhi, Where Eagles Dare), star in this highly engaging feature from renowned writer, producer and director Wolf Rilla (Village Of The Damned, Strange Affection).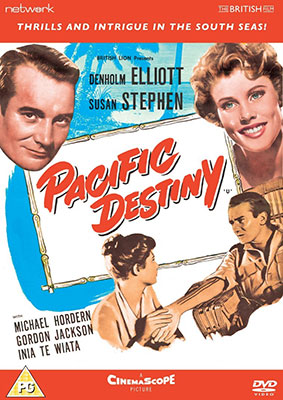 Filmed in Samoa and based on the true experiences of Arthur Grimble – commissioner of the Gilbert and Ellice Islands Colony in the western Pacific during the 1920s – the BAFTA-nominated Pacific Destiny will be released on UK DVD on 2nd March 2015 at the RRP £9.99 by Network Distributing as part of 'The British Film' collection.
Pacific Destiny is presented here in a brand-new transfer from the original film elements, in its as-exhibited theatrical aspect ratio (and that would be CinemaScope).
Special features will include:
Original theatrical trailer

Unused scene [mute]

Image gallery

Promotional material PDFs