As if to stand in solidarity with the likes of Second Run and Metrodome in championing DVD as a still thriving format, Curzon Film World and Artificial Eye have announced the upcoming release of Andrew Hulme's Snow in Paradise and Uberto Pasolini's Still Life.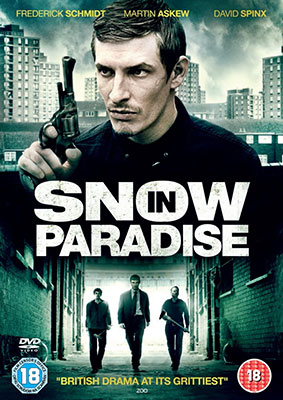 Snow in Paradise
Dave is a petty criminal who thrives on drugs and violence in London's East End. When his actions kill his best friend Tariq he's propelled into unknown feelings of shame and remorse. He discovers Islam and begins to find peace until his old life of crime comes back to test his new belief.
Based on the true story of Martin Askew, who grew up in the East End criminal underworld, Snow in Paradise is a hard-hitting debut from editor-turned-director Andrew Hulme, known for his work on Control, The Imposter and Red Riding 1974.
Praised by Little White Lies as a film that "Breathes new life into the Brit gangster genre," Snow in Paradise will be released on UK DVD on 13th April 2015 by Curzon Film World at the RRP of £15.99.
Special features will include: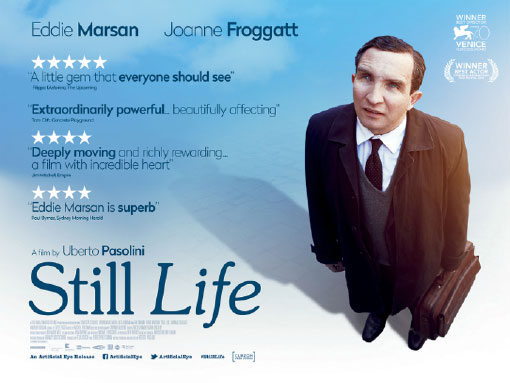 Still Life
Meticulous and organised to the point of obsession, John May (Marsan) is a council worker charged with finding the next of kin of those who have died alone. When his department is downsized and he is given his final case, John finds himself on a liberating journey of self-discovery that will make him question everything and start living life at last.
A poignant tale of life, love and the afterlife, Still Life is a tender and witty new drama from Uberto Pasolini, the Oscar-nominated producer of The Full Monty, starring Eddie Marsan (Tyrannosaur, Happy-Go-Lucky) and Joanne Froggatt (Downton Abbey).
Described by Empire as "Deeply moving and richly rewarding... a film with incredible heart," Still Life will be released on UK DVD on 13th April 2015 by Artificial Eye at the RRP of £15.99.
Extra features will include: