A relentlessly-paced hybrid of gritty crime thriller and Lovecraftian supernatural horror, American Ghost Story follows a trio of kidnappers who take an ill-advised detour en route to deliver their hostages – two teenage girls – to their mysterious and powerful employer. When they accidentally kill one of the girls during a botched escape attempt, their simmering mistrust explodes into violence. But what they thought was their worst case scenario is only the beginning, as they are engulfed by the hellish forces that haunt the road – a road they realize they may never escape. Now captors and captive must fight together to escape the monstrous forces pursuing them and somehow survive...
Starring David Hayter (the voice of Solid Snake in the Metal Gear Solid video games), Casey Hudecki (Nikita, the TV series) and Maria Del Mar (TV's Hannibal), and directed by first-timer Joseph O'Brien, American Ghost Story is another UK import that has been retitled for its UK DVD release by Metrodome. Originally titled Devil's Mile, it's tended to split opinion in genre critical circles, with Bloody Disgusting calling it "a frustrating experience," while Horror Cult Films praised it for having "Clever ideas executed well with genuinely scary horror elements and an amazing cast." Even its detractors seem to agree that it is at the very least ambitious, however, which does make it of interest.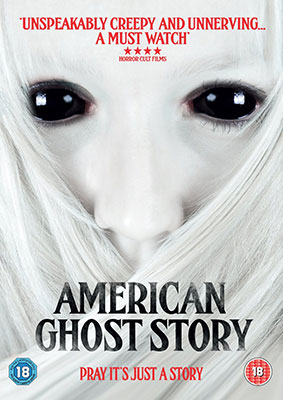 American Ghost Story (aka Devil's Mile) will be released on UK DVD by Metrodome on 9th March 2015 at the RRP of £14.99.
No extra features have been listed.