Peccadillo have announced their DVD, Blu-ray and on-demand releases for April to June 2015, which include two horror titles, a laugh-out-loud comedy, a Dutch mystery, a poetic look at finding yourself in Berlin (and we've all been there), and a tale of moving half way around the world to follow your love.
Special features, retail prices and (some) final artwork will be confirmed nearer to the individual release dates.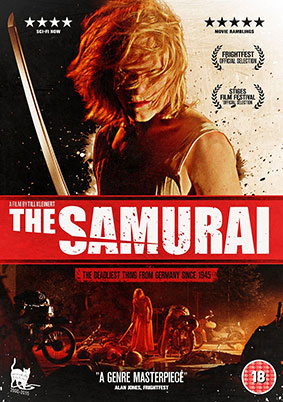 The Samurai [Der Samurai] – Released on DVD and On-Demand from 13th April 2015
Director: Till Kleinert | Germany 2014
On the edge of a dark forest, where the fear of wolves prevents locals from straying too far from home, a young police officer, Jakob receives a package addressed to the 'Lone Wolf'. As the night shift starts a mysterious caller claims the package belongs to him. Venturing out alone, Jakob unknowingly delivers a samurai sword to a wild-eyed man in a wedding dress, who entices him to participate in a bloody crusade through the village. As night wanes something hidden is unleashed to meet the first rays of daylight...
Till Kleinert's genre debut pulsates with relentless intensity – The Samurai is a daring, outrageous and fascinating journey into the sexual heart of darkness.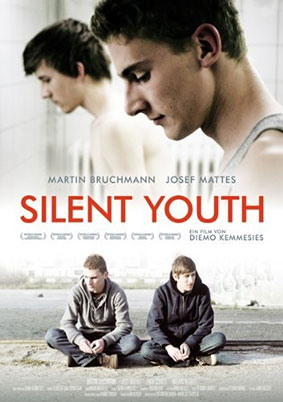 Silent Youth – Released on DVD and On-Demand on 27th April 2015
Director: Diemo Kemmesies | Germany 2002
Solitary strangers, Marlo and Kirill, meet one night in Berlin. An intense but unspoken spark between the two young men keeps them in one another's company until morning. After sharing their secrets and deepest desires, their relationship intensifies and they connect in a way that will forever change them.
At once poetic and powerful, Silent Youth is a beautiful tale of discovery, love and acceptance.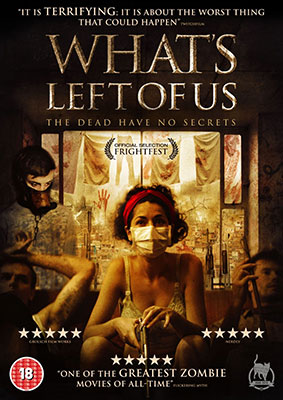 What's Left of Us [El Desierto] – Released on DVD and On-Demand from 11th May 2015
Director: Christoph Behl | Argentina 2013
Axel, Jonathan and Ana are the last three, living together in a bunker in a post-apocalyptic world. Outside is a perilous and unknown landscape filled with the undead. In order to survive, they must scavenge and hunt for food and supplies.
Through no choice of their own, the three of them are stuck in this dank, claustrophobic hell and soon they start to form all sort of humans emotions; love, anger, care and hatred for one another. But most of important of all, they must learn to live together. To hold on to their sanity, they capture and lock up a zombie for interrogation and Ana has invented "the therapy room", a place for them to record their confessions, which are then locked away.
What's Left of Us is a gripping and terrifying imagining of something that could happen to any of us at any time.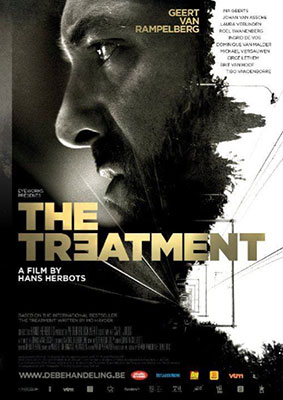 The Treatment [De Behandeling] – Released on DVD, Blu-ray and On-Demand from 25th May 2015
Director: Hans Herbots | Belgium 2013
Inspector Nick Cafmeyer seems to have it all – looks, brains and a successful career. But a dark cloud hangs over his life: since the age of nine, he has been haunted by the disappearance of his younger brother. When a mysterious new case arrives on Nick's desk involving a missing nine-year-old, Nick must come face to face with his childhood demons whilst also heading the labyrinthine investigation and manhunt.
A relentless, heart-pounding juggernaut of a crime thriller, based on the original novel by acclaimed British crime writer Mo Hayder, The Treatment heralds a new and unforgettable turn in the Nordic noir phenomenon.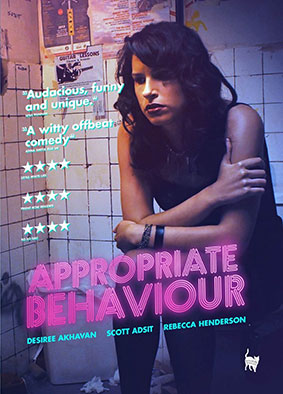 Appropriate Behaviour – Released on DVD, Blu-ray and On-Demand from 22nd June 2015
Director: Desiree Akhavan | USA 2014
For Shirin (Desiree Akhavan), being part of a perfect family isn't easy. Acceptance eludes her from all sides: her family doesn't know she's bisexual, and her ex-girlfriend, Maxine (Rebecca Henderson), can't understand why she doesn't tell them. Even the six-year-old boys in her moviemaking class are too ADD to focus on her for more than a second. Following a family announcement of her brother's betrothal to a parentally approved Iranian prize catch, Shirin embarks on a private rebellion involving a series of escapades, while trying to decipher what went wrong with Maxine.
From writer/director/actress Desiree Akhavan (the unfathomable love-child of Woody Allen, Lena Dunham and Tina Fey) comes an ironic, Iranian, hipster date movie; Appropriate Behaviour is an achingly cool, post-feminist comedy about what happens when a girl comes out and discovers that extraordinary is the new ordinary.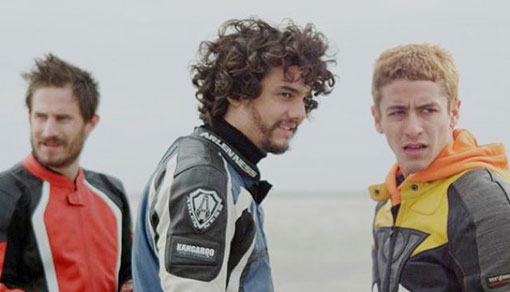 Futuro Beach [Praia do Futuro] – Released on DVD and On-Demand from 22nd June 2014
Director: Karim Ainouz | Brazil/Germany 2014
Donato works as a life guard patrolling the spectacular but treacherous Futuro Beach. When he dives into the sea he saves Konrad, a German vacationing in Brazil, but Konrad's friend is lost. Soon a bond grows between Donato and Konrad and the initial sexual sparks give way to a deeper, emotional relationship. The two men find themselves falling in love and Donato decides to leave everything behind and follows Konrad to Berlin. Far from Futuro Beach, Donato finds both confusion and liberation in the cold but vital German capital.