Network Distributing have announced two more releases as part of 'The British Film' collection: Waterfront, a 1950s drama starring Robert Newton and a young Richard Burton; and The One That Got Away, which is based on a true story about the German prisoner of war to escape Britain.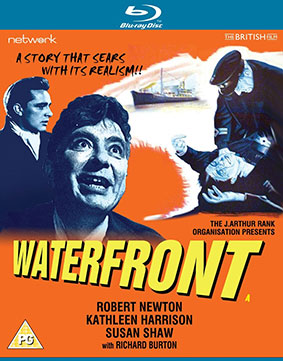 Waterfront (1950) – DVD and Blu-ray
When ship's fireman Peter McCabe walks out on his long-suffering wife, he leaves her impoverished, with two young daughters and a boy born soon after his departure. After an absence of 14 years McCabe returns, sacked and humiliated, trailing trouble in his wake.
Waterfront is an outstanding 1950s drama that traces the turbulent life of a seaman brutalised by a life of hard work and hard drinking, and the challenges facing the three children he abandons as they struggle to make their way in Depression-era Liverpool.
Waterfront features powerful performances from Robert Newton (Oliver Twist, Treasure Island), Susan Shaw (Train Of Events, It Always Rains On A Sunday), Kathleen Harrison (A Christmas Carol, Mrs Thursday) and a young Richard Burton (Nineteen Eighty-Four, Becket) – appearing here in only his third film.
Waterfront will be released on UK DVD and Blu-ray on 2nd March 2015 by Network Distributing at the RRP of £9.99 for the DVD and £14.99 for the Blu-ray.
Presented in a brand-new transfer from the original film elements in its as-exhibited theatrical aspect ratio, the released will have the following extras:
Image gallery

Original pressbook PDF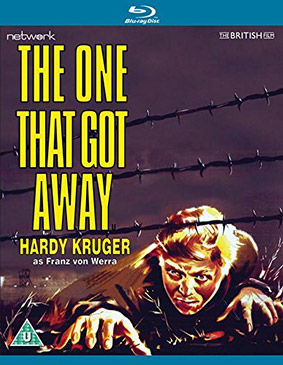 The One That Got Away (1957) – Blu-ray only
With the Battle of Britain at its height, fighter pilot von Werra is shot down over enemy soil and captured by British soldiers, but interrogation and captivity cannot deter him from the single aim of escaping back to his homeland. The course of his escape takes him through Canada and a still-neutral United States before he makes it home, some two years after first being captured.
This classic feature, directed by Golden Globe winner Roy Ward Baker (A Night to Remember, Quatermass and the Pit) stars Hardy Krüger (Hatari!, The Flight Of The Phoenix) – one of Germany's leading actors and himself a prisoner of war who escaped from the Americans on three occasions – as the charismatic Lieutenant Franz von Werra, with a strong supporting cast that includes Michael Goodliffe (The Day The Earth Caught Fire, Peeping Tom), Colin Gordon (The Pink Panther, The Man In The White Suit) and Alec McCowan (Frenzy, Gangs Of New York).
Presented here in a High Definition transfer from the original film elements, the release will have the followimng extra features: