Follow the lives of Viago (Taika Waititi), Deacon (Jonathan Brugh), and Vladislav (Jemaine Clement) - three flatmates who are just trying to get by and overcome life's obstacles, like being immortal vampires who must feast on human blood. Hundreds of years old, the vampires are finding that beyond sunlight catastrophes, hitting the main artery, and not being able to get a sense of their wardrobe without a reflection-modern society has them struggling with the mundane like paying rent, keeping up with the chore wheel, trying to get into nightclubs, and overcoming flatmate conflicts.
This hilarious mock-documentary, featuring Taika Waititi and Flight of the Conchords' Jemaine Clement, details all the comic complexity that arises from such difficult living (or not living) conditions. A young new initiate who won't stop telling people how cool it is to be a vampire adds to the supernatural chaos.
A critical hit on its UK cinema release in November, it was described by Peter Bradshaw in The Guardian as "the best comedy of the year" and Alan Frank in The Daily Star as "Sidesplitting," while Dan Jolin in Empire described it thus: "Here it is at long last: a truly great vampire comedy. And also the funniest horror film to come out of New Zealand since Brain Dead."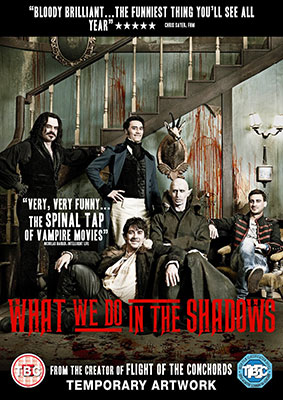 What We Do in the Shadows will be released on UK Blu-ray and DVD on 13th April 2015 by Metrodome Distribution at the RRP of £24.99 for the Blu-ray and £19.99 for the DVD.
Special features will include:
Deleted scenes

Interviews

Behind the Shadows

Video extras

Promo videos