The socially challenged underdogs of the lucrative world of tech start-ups are finally uncovered in the keenly observed and genuinely funny Silicon Valley: The Complete First Series released on Blu-ray and DVD in March.
From the offbeat mind of Mike Judge (Office Space, Idiocracy), this critically-acclaimed HBO comedy takes viewers inside the high-tech gold rush of modern Silicon Valley. Inspired by Judge's own experiences as a Silicon Valley engineer in the 80's, the show follows the trials and tribulations of awkward computer programmer Richard (Thomas Middleditch – The Wolf of Wall Street), who lives in a "Hacker Hostel" along with his friends Big Head (Josh Brener – The Big Bang Theory), Gilfoyle (Martin Starr – This Is The End), and Dinesh (Kumail Nanjiani – Sex Tape).
Under the watchful eye of Erlich (T.J. Miller – Transformers: Age of Extinction), a dotcom millionaire who lets them stay in his house for free (as long as he gets a 10% stake in their projects), the friends struggle to break into the elusive and lucrative market. Richard is stuck in a part-time job at tech company Hooli, and his obscure website, Pied Piper, is going nowhere fast. But when a colleague realises just how valuable the site's compression algorithm is, Richard finds himself caught in the middle of an extreme bidding war between Hooli founder Gavin Belson (Matt Ross – American Horror Story) and independent billionaire venture capitalist Peter Gregory (Christopher Evan Welch – The Master).
Combining smart observational comedy with a superb cast and razor-sharp dialogue, Silicon Valley: The Complete First Series taps into the zeitgeist in a completely unique way and shows how often the people most qualified to succeed are really the least capable of handling success.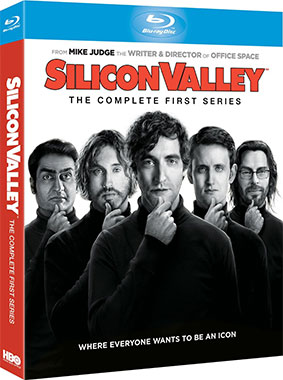 Silicon Valley: The Complete First Series comes to UK Blu-ray and DVD in March from HBO UK at the RRP of £30.63 for the Blu-ray and £25.52 for the DVD. The series will also be available on Digital Download.
Extra features will include (awaiting confirmation and possible additions):
Audio commentaries on all 8 episodes

Hacker Hostel Tour (TBC)

Tech Crunch: Disrupt (TBC)

The Making of Silicon Valley (TBC)
Just so you know, there's some strong language in the trailer.