Arrow Video has announced the latest addition to its roster of Vincent Price movies with the UK Blu-ray and DVD release of Jacques Tourneur's 1963 The Comedy of Terrors, joining previous releases such as The Fall of the House of Usher, Theatre of Blood, The Pit of the Pendulum and The Raven, amongst others.
From Jacques Tourneur, director of numerous horror classics including Cat People, I Walked with a Zombie and Night of the Demon, comes gleefully macabre tale which brings together genre greats Vincent Price, Peter Lorre and Boris Karloff.
Price plays Waldo Trumbull, a perpetually inebriated, down-on-his-luck undertaker who has struck on an interesting way to boost business – by hastening the deaths of those whom he buries. When landlord Mr. Black (Basil Rathbone) threatens to put him out on the street for falling behind with the rent, Trumbull, together with his reluctant and bumbling assistant Felix Gillie (Lorre), hatches an ill-advised plan to "kill two birds with one stone", so to speak...
The penultimate directorial effort from Tourneur, The Comedy of Terrors bears many of the hallmarks of the master filmmaker's earlier works, whilst adding a healthy dash of humour to the proceedings.
This new edition boasts a bumper crop of bonus features such as an hour long archive interview with Vincent Price in which the actor reflects on his career and an audio commentary with historian David Del Valle.
Alongside this the special features will also include Whispering in Distant Chambers: The Nightfall of Jacques Tourneur, a specially-commissioned video essay by David Cairns, which charts the career of director Jacques Tourneur, alongside Richard Matheson Storyteller, an archive featurette on The Comedy of Terrors writer.
The release features a collector's booklet featuring a reversible sleeve showcasing original and newly commissioned artwork by Paul Shipper and a collector's booklet featuring new writing on the film by Chris Fujiwara, author of Jacques Tourneur: The Cinema of Nightfall, illustrated with original archive stills and posters.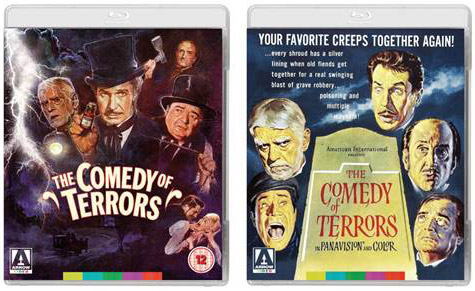 The Comedy of Terrors will be released as a UK dual format edition (Blu-ray and DVD) on 16th February 2015 by Arrow Video at the RRP of £19.99.
Boasting a High Definition Blu-ray (1080p) and Standard Definition DVD presentation of the feature, transferred from original film elements by MGM, original mono 2.0 audio (uncompressed PCM on the Blu-ray) and optional English subtitles for the deaf and hard of hearing, the releas will have this fine collecion of extras:
Audio Commentary with Price historian David Del Valle

Extensive archive interview with Vincent Price

Whispering in Distant Chambers: The Nightfall of Jacques Tourneur – a specially-commissioned video essay by David Cairns, which charts the career of director Tourneur

Richard Matheson Storyteller – an archive featurette on The Comedy of Terrors writer

Original theatrical trailer

Reversible sleeve featuring original and newly commissioned artwork by Paul Shipper

Collector's booklet featuring new writing on the film by Chris Fujiwara, author of Jacques Tourneur: The Cinema of Nightfall, illustrated with original archive stills and posters