At last! One of the biggest cult films of the 80s and a personal site favourite, Midnight Run, starring Robert De Niro and Charles Grodin, comes to UK Blu-ray for the first time from Second Sight Films in April.
De Niro plays Jack Walsh, a bounty hunter with a new assignment that could set him up for retirement. All he has to do is get bail-jumping accountant Jonathan 'The Duke" Mardukas (Grodin) back to Los Angeles by midnight on Friday. But things aren't that simple. The Duke has embezzled $15 million from the mob and they want him dead, the FBI want to get to him first to testify, Jack just wants him to shut up after five minutes in his company. It's going to be a long journey from New York to L.A.
With a razor-sharp script from George Gallo (Wise Guys) and performances to match, Midnight Run showcases De Niro's finest comic performance and a career-best turn from Charles Grodin (Beethoven, Dave). Surperb support is provided by the late, great Dennis Farina (Manhunter, Get Shorty) as perpetually angry mob boss Jimmy Serrano, Yaphet Kotto (Alien, Homicide: Life on the Street) as weary FBI agent Alonzo Mosely, Joe Pantoliano (The Sopranos) as hyperactive bail bondsman Eddie Moscone and John Ashton (Beverly Hills Cop) as Walsh's gruffly abusive rival Marvin Dorfler. For our money it's also the best film yet from director Martin Brest (Beverly Hills Cop, Scent of a Woman), who's been curiously quiet in recent years.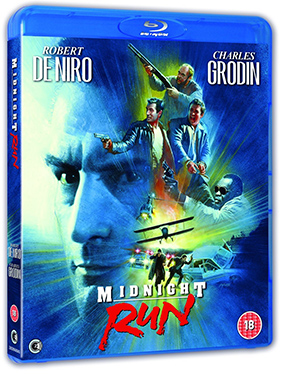 This highly anticipated high-def version of Midnight Run (the previous DVD was letterboxed!) will be released on 20th April 2015 by Second Sight Films at the RRP of £19.99.
The disc will include brand new special features that have yet to be confirmed, but that will include interviews.