Peccadillo Pictures have announced the UK DVD and On-Demand release of the 2009 The King of Escape [Le roi de l'évasion], a film about tractors, aphrodisiacs and forbidden love from Alain Guiraudie, the Cannes Award Winning director of Stranger by the Lake.
Armand is a gay tractor salesman and not the sharpest tool in the shed. When he rescues Curly, the daughter of his greatest rival, the two embark on a mad chase through the forest pursued by a very angry father with a gun. Totally unknown to Armand, however, is the bizarre sexual frenzy he's ignited in the other men in town, with him as the object of their desire...
Hilarious, daring and outrageously controversial, The King of Escape is a riotous French sex comedy about raising cocks in rural France (steady!).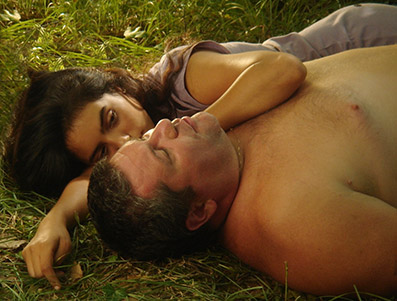 Desribed by Variety as a "thoroughly entertaining character comedy," The King of Escape will be released on UK DVD and On-Demand on 23rd March 2015 by Peccadillo Pictures at the RRP of £15.99 for the DVD.
No details of DVD extra features have been confirmed as yet.