Spectrum have announced the March UK DVD and Digital release of the documentary feature The Internet's Own Boy: The Story of Aaron Swartz.
The film docuements the story of programming prodigy and information activist Aaron Swartz; from Swartz's help in the development of the basic internet protocol RSS to his co-founding of Reddit, his fingerprints are all over the internet. But it was Swartz's groundbreaking work in social justice and political organizing combined with his aggressive approach to information access that ensnared him in a two year legal battle with the Federal government. It was a battle that ended with the taking of his own life at the age of 26.
Aaron's story touched a nerve with people far beyond the online communities in which he was a celebrity. This film is a personal story about what we lose when we are blind to technology and its relationship to our civil liberties.
Directed by Brian Knappenberger, whose 2012 documentary We Are Legion: The Story of the Hacktivists is something of a personal favourite here, The Internet's Own Boy was a Grand Jury Prize nominee at the 2014 Sundance Film Festival and was described by Empire thus: "Combining hactivist hagiography with a damning attack on the American legal system, this account of an altruistic cyber-butterfly being broken on the corporate wheel may be subjective, but is also intelligent and deeply moving."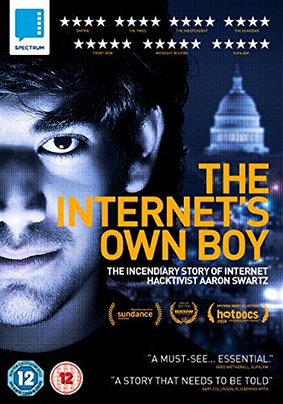 The Internet's Own Boy will be released on UK DVD on 16th March 2015 at the RRP of £17.99, and Digital Download on 13th March 2015.
A little disappointingly, no extra features have been listed.