The two latest DVD release announcements from Network Distributing as part of 'The British Film' collection are linked by their director, the man behind The Mechanic, Death Wish and The Sentinel, Michael Winner: West 11 and The Nightcomers.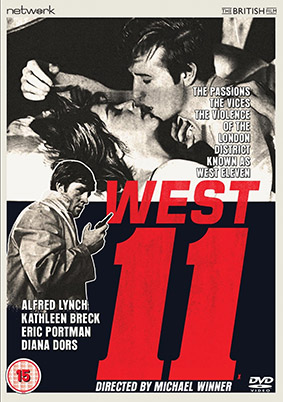 West 11 (1963)
Joe Beckett, seasoned citizen of the bedsitter belt, aged about 22, is the renegade son of middle-class parents and, to use his own description, 'an emotional leper'. He decides that he needs a violent shock to shake him back into life. As a result, he accepts a commission to carry out the murder of a total stranger for a man he meets in a coffee bar.
An early feature from Michael Winner, this gritty crime thriller sets its story of alienation and amorality amid the faded grandeur and seedy clubs of early-sixties Notting Hill.
Scripted by Keith Waterhouse and Willis Hall (Billy Liar, Whistle Down The Wind), Alfred Lynch (The Hill, Manhunt) leads an excellent cast that includes Eric Portman, Finlay Currie and Patrick Wymark. The film also showcases an outstandingly vulnerable performance from Diana Dors (Blonde Sinner, Queenie's Castle).
West 11 will be released on DVD as part of Network's 'The British Film' collection on 23rd February 2015, at the RRP of £9.99.
The film will be presented here in a brand-new transfer from the original film elements, in its as exhibited theatrical aspect ratio, and have the following extra features:
Original theatrical trailers
Alternative scenes made for the overseas market
Image gallery
Promotional material PDFs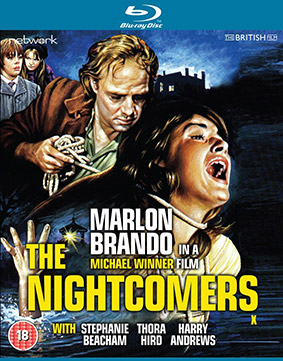 The Nightcomers (1971)
Following the deaths of their parents, Flora and Miles are left in the care of repressed governess Miss Jessel, and housekeeper Mrs Grose, but it is Peter Quint, the malevolent Irish servant, who truly rules the household. Miss Jessel, equally repulsed and fascinated by Quint, is drawn into a secret sadomasochistic affair with him, while Flora and Miles are increasingly in his thrall.
Featuring a BAFTA-nominated performance from Marlon Brando (The Godfather, Apocalypse Now), this atmospheric, sexually charged feature from a golden age of British horror, directed by Michael Winner also stars Stephanie Beacham (The Games) in her first major film role.
Visually stunning in a High Definition transfer from the original film elements, The Nightcomers sketches a prequel to Henry James' classic Gothic novella The Turn Of The Screw, with Brando in typically compelling form as the servant whose disturbing, magnetic presence exerts a corrupting hold over the occupants of a country estate.
The Nightcomers will be available to own from 23rd February 2015, on Blu-ray for the RRP £14.99, and DVD for the RRP of £9.99, courtesy of Network Distributing's 'The British Film' collection.
The only extra feature is the theatrical trailer.