Network Distributing have announced two more titles as part of 'The British Film' collection: The Good Beginning, a drama about a newly married couple starring John Fraser and Eileen Moore; and Silent Dust, a post–war drama from British director Lance Comfort starring Sally Gray and Stephen Murray.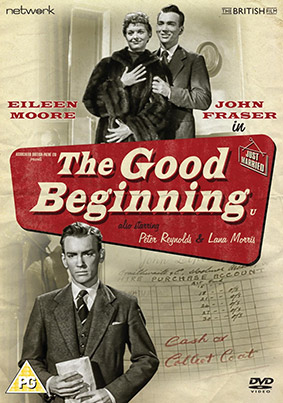 The Good Beginning (1953)
After their honeymoon, Johnny Lipton and his wife Kit move into their small apartment. Kit runs the flat on a tight budget, for she hopes that one day – with her support – her husband will eventually run his own business. A lack of understanding of each other's character and aspirations, however, lead to many problems before Johnny and Kit are able to attempt a 'good beginning' to their marriage.
This delicate and very human drama centres around a newly married couple as they try to negotiate a path through financial insecurity, and the resulting tension that is placed upon their relationship. John Fraser (The Trials Of Oscar Wilde, Repulsion) and Eileen Moore (The Green Man, An Inspector Calls) take the lead roles, with Peter Jones (The Mixer, The Hitch Hikers Guide To The Galaxy) and then-aspiring '50s starlet Lana Morris (Howard's Way, Trio) among a solid supporting cast.
The Good Beginning is out on UK DVD as part of Network's 'The British Film' collection on 16th February 2015 at the RRP of £9.99. The film is featured here in a brand-new transfer from the original film elements, in its as-exhibited theatrical aspect ratio.
No special features have been listed.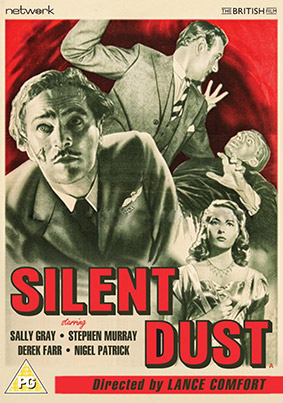 Silent Dust (1949)
Sir Robert Rawley is a self-made man in the most successful sense. The spur for his ambition had always been his son, Simon, but since Simon's death under fire his love has grown into an obsession. All is not as it seems, however – Simon deserted his post and faked his own death, and is now on the hunt for money.
Directed by Lance Comfort (Temptation Harbor, Be My Guest), Silent Dust features commanding performances from Sally Gray (Obsession), Stephen Murray (A Tale of Two Cities), Nigel Patrick (The Sound Barrier) and Seymour Hicks (A Christmas Carol), among others, and also features an excellent score by leading French composer Georges Auric (Roman Holiday, The Wages of Fear, The Innocents).
Silent Dust will be released on UK DVD on 16th February 2015 at the RRP of £9.99, courtesy of Network's 'The British Film' collection. The film is presented here in a brand-new digital transfer; in it's as-exhibited theatrical aspect ratio.
The only extra feature is a theatrical trailer.