From acclaimed director Feng Xiaogang (Aftershock, Assembly) comes Back in 1942 [Yi jiu si er], breathtaking war epic which revisits one of the most catastrophic periods of 20th-century Chinese history – the famine in Henan Province during the 1942 Sino-Japanese War. Previously unavailable in the UK, Back to 1942 will be released by the BFI in February 2014 on both DVD and Blu-ray with additional special features.
Zhang Guoli stars as Master Fan, a wealthy landlord who loses everything when he and his family flee their famine-stricken hometown. Academy Award-winner Adrien Brody (The Pianist) co-stars as a courageous American journalist who encounters the horrors of the famine first-hand and endeavours to enlist relief-aid from the Chinese government and expose the plight of the Henan refugees.
Awe-inspiring action and intelligent characterisation combine to masterful effect in this explosive blockbuster.
Back to 1942 was screened at BFI Southbank last February, attended by director Feng Xiaogang, ahead of the major BFI season A Century of Chinese Cinema.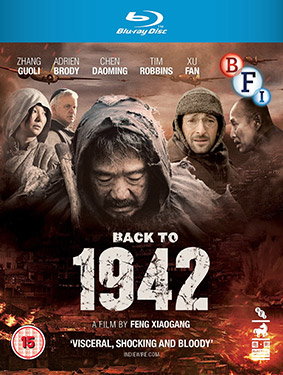 Back in 1942 will be released on UK Blu-ray and DVD on 23rd February 2015 by the BFI at the RRP of £19.99 for either disc.
Blu-ray and DVD special features:
Original trailers

Promo reel

Making Back to 1942 (18 mins)

The Characters of 1942 (8 mins)
Blu-ray exclusive special features:
The People of 1942 (30 mins)

A Close Look at 1942 (52 mins)