Determined to make it as an actress in Hollywood, Sarah Walker spends her days working a dead-end job, enduring petty friendships and going on countless casting calls in hopes of catching her big break.
After a series of strange auditions, Sarah lands the leading role in a new film from a mysterious production company. But with this opportunity comes bizarre ramifications that will transform her both mentally and physically into something beautiful... and all together terrifying.
The second feature from co-directors Kevin Kolsch and Dennis Widmyer (the first was the 2209 thriller Absence) attracted some seriously positive reviews at its Frightfest ascreening. Said UK Horror Scene of the film, "A truly spectacular performance from Essoe, combined with a killer soundtrack and a constant underlying terror made Starry Eyes one of the highlights of the festival," while Sound on Sight claimed that "this could very well be the best horror film of the year." Particular praise has been targeted at the lead performance from Alex Essoe, which Variety described as "knockout" and Indie Underground Film said that "without hyperbole it is one of the most impressive leading lady debuts I've ever seen."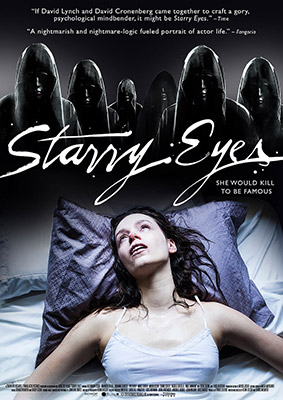 Starry Eyes comes to UK DVD on 16th March 2015 from Metrodome Distribution at the RRP of £14.99.
As tends to be the way with Metrodome releases, there are no extra feature listed. This is a particular shame given that the MPI US Blu-ray release has a number of extra features, including a commentary by writer-directors Dennis Widmyer and Kevin Kolsch, and producer Travis Stevens.