As night wanes something hidden is unleashed to meet the first rays of daylight…
A wolf lurks in the woods surrounding an isolated village. Jakob, a young police officer is onto him, but senses something more in the darkness. What he discovers is a man, wild eyed, in a wedding dress. He carries a Samurai sword. The Samurai invites Jakob to follow him on his bloody crusade through the village. Who is this debauched maniac and what does he want?
Till Kleinert's ruthless rural horror pulsates with relentless intensity, The Samurai [Der Samurai] is a daring, outrageous and fascinating journey into the sexual heart of darkness.
Said Sci-Fi Now said of the film, "The Samurai has drawn you into its odd, half-Lynchian, half Company of Wolves dreamscape completely. This is excellent," while Horror Talk enthused that "This ultra-violent, atmospheric head trip is beautifully shot and is backed by a sensational score."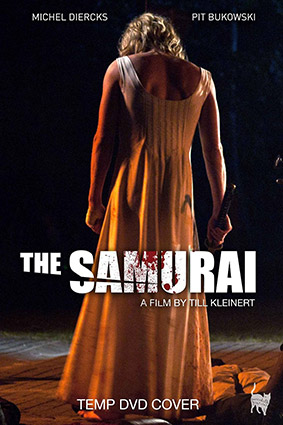 The Samurai will be released on UK DVD and Digital On-Demand in April 2015 (exact date to be confirmed) by Peccadillo Pictures at the RRP of £15.99 for the DVD.
Extra features will include: