Winner of the prestigious Best Documentary award at the 2014 Tribeca Film Festival, Point and Shoot tells the story of Matt VanDyke, a timid 27-year-old with Obsessive Compulsive Disorder, who left home in Baltimore and set off on a self-described "crash course in manhood". He bought a motorcycle, a video camera and began a three-year, 35,000-mile motorcycle trip through Northern Africa and the Middle East.
While traveling, he struck up an unlikely friendship with a Libyan hippie, and when revolution broke out, Matt joined his new found friend in the fight against Dictator Muammar Gaddafi. With a gun in one hand and a camera in the other, Matt fought in – and filmed – the war until he was captured by Gaddafi forces and held in solitary confinement for six months.
Two-time Academy Award nominated documentary filmmaker Marshall Curry (Street Fight, If a Tree Falls: A Story of the Earth Liberation Front) expertly tells this harrowing and sometimes humorous story of a young man's struggle for political revolution and personal transformation.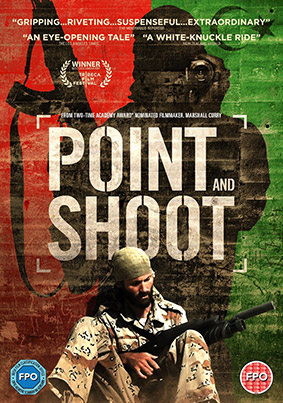 Point and Shoot will be released on UK DVD on 16th February 2014 by Spectrum at the RRP of £17.99. The film will be available on digital download from 2nd February 2015.
No extra features have been listed.