Binkie Stuart, a child star whose career briefly flourished before the outbreak of war in 1939, takes the titular role in this heart-warming musical charting the adventures of a little orphan girl in the difficult days of pre-war Ireland.
Hollywood siren Maureen O'Hara (The Quiet Man, The Parent Trap) stars in an early role alongside Britain's answer to Shirley Temple, Binkie Stuart, who plays a spirited young girl left in the clutches of a cruel guardian aunt.
The only known existing British version of this film is the re-release, edited down to favour O'Hara (then a major star) rather than Stuart. Luckily, the edited material was preserved and this is included as a special feature.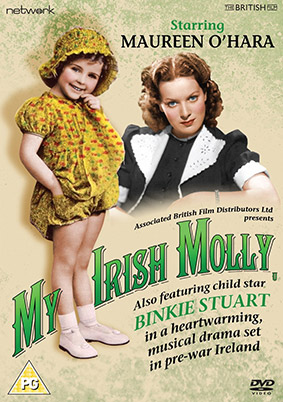 My Irish Molly (PG) will be reelased on UK DVD by Network Distributing as part of 'The British Film' collection on 2nd February 2015 at the RRP of £9.99.
The extra feature is:
13 minutes of deleted scenes [part mute], including the original titles