Written and directed by Woody Allen, the 2006 Scoop tells the story of journalism student Sondra Pransky (Scarlett Johannson – Under The Skin, Vicky Cristina Barcelona) who is visited by the spirit of deceased journalist Joe Strombel (Ian McShane – Sexy Beast, Deadwood) whilst volunteering at a performance by American magician Sid Waterman (Allen).
During the visitation, Strombel reveals his final major scoop – a tip-off that the notorious 'Tarot Card Killer', still at large in London, is in fact feted British aristocrat Peter Lyman (Hugh Jackman – X-Men: Days of Future Past, Les Misérables).
Teaming up with a reluctant Waterman to pursue the suspect, Sondra tracks down the enigmatic Lyman, and immediately finds herself irresistibly drawn to him. Embarking on an affair, she risks everything as she juggles their romance with the search for evidence that could lead her to the scoop of a lifetime...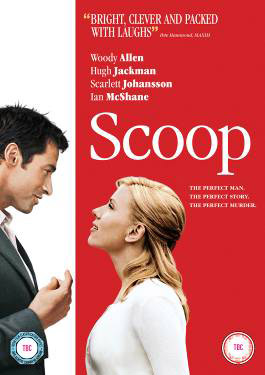 Scoop will be released on UK DVD on 9th February 2015 by Icon Film Distribution at the RRP of £12.99.
Extra features are awaiting confirmation.