Recently nominated for four BAFTA awards including leading actor for Jake Gyllenhaal, Nightcrawler is a pulse-pounding thriller set in the neon-drenched streets of night time LA.
Down on his luck Lou Bloom (Jake Gyllenhaal) stumbles upon the dangerous, cut-throat world of freelance crime journalism – discovering that filming murder and mayhem can be a quick way to make a buck. Aided by Nina (Rene Russo), a ruthless veteran of TV news, Lou combs LA's seedy underbelly for the city's most sensational news footage. He soon discovers he's uniquely suited to his new job, but events begin to spiral out of control as one dark choice leads to another.
The directorial debut of screenwriter Dan Gilroy (The Fall, The Bourne Legacy) and co-starring Rene Russo, Riz Ahmed and Bill Paxton, Nightcrawler was praised by Empire as "Sharp, dark, satirical and bone-rattlingly thrilling, with a career-peak turn from Jake Gyllenhaal," and The Guardian as "a ghoulish and wickedly funny satire on journalism, the job market and self-help culture."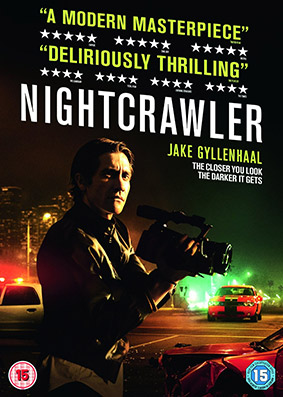 Nightcrawler arrives on UK DVD, Blu-ray and Blu-ray Steelbook on 2nd March 2015 from Entertainment One at the RRP of £19.99 for the DVD, £24.99 for the Blu-ray and £34.99 for the Blu-ray Steelbook.
Extra features will include:
The film will also be available for download on 23rd February 2015.