Based on his bestselling memoir of the same name, Life Itself explores the impact and legacy of world–renowned film critic and social commentator Roger Ebert, from his Pulitzer Prize–winning film criticism at the Chicago Sun–Times to becoming one of the most influential cultural voices in America.
Directed by acclaimed director Steve James (Hoop Dreams, The Interrupters) with Martin Scorsese (The Departed, Raging Bull) and Steven Zaillian (Schindler's List, Moneyball) as executive producers, this feature documentary recounts Roger's inspiring and entertaining life – a story that is by turns personal, wistful, funny, painful, and uplifting.
Roger became an iconic force when he joined with Gene' Siskel to create Siskel and Ebert at the Movies, one of the America's longest running, most influential television shows. In the wake of his illness and disability, Roger's writing grew creatively and in importance – transcending film criticism. Using his blog, and social media, Roger became a must–read commentator, thoughtfully addressing the political and social issues of our time. His public defiance of cancer and the resulting disfigurement literally and symbolically put a new face on the disease, and brought inspiration to countless thousands in the disabled community and beyond.
The filmmakers were granted unprecedented access to Roger and his wife Chaz, during the final four months of his life. In that time, they captured Roger's fighting spirit, his sharp sense of humor, and the ways he directly inspired filmmakers, family and fans. The response to Roger's unexpected passing in April 2013 was immense and profoundly moving – front page news not just in Chicago, but worldwide. Influential filmmakers and politicians reflected on Roger's legacy – everyone from Spike Lee, and Michael Moore to President Obama, who said, "When he didn't like a film, he was honest; when he did, he was effusive – capturing the unique power of the movies to take us some place magical."
Roger was an avid supporter of independent film, and an early champion of the work of iconic filmmakers including Werner Herzog, Errol Morris and Martin Scorsese, all of whom are interviewed in the film.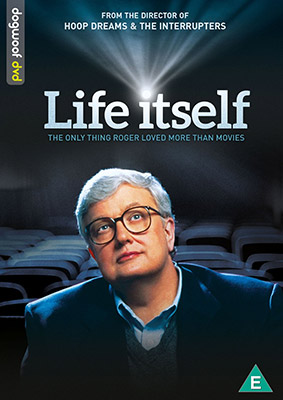 Described by The Guardian as "An inspiring documentary for critics, and anyone who loves cinema," while The Observer said of the film, "This lovely, insightful film is a splendidly watchable tribute to a truly cinematic life," Life Itself will be released on UK DVD on 23rd February 2015 by Dogwoof at the RRP of £15.99.
Special features will include: