Oscar-winning screen siren Sophia Loren's classic Sunflower [I girasoli] finally gets the release it deserves as it arrives on DVD and VOD later this month, in a stunningly re-mastered version, presented in its original widescreen format courtesy of Argent Films.
Loren (Two Women, A Special Day) and award-winning leading man Marcello Mastroianni (La Dolce Vita, 8½) are newlywed lovers torn apart by war, despite almost impossible odds they never give up on one another. Originally released in 1970, the film comes to DVD in a newly restored version, taken from HD elements, befitting its sumptuous photography (by Giuseppe Rotunno, who lit most Italian headliners including The Leopard, he was Fellini's cinematographer and received an Oscar nomination for Bob Fosse's All That Jazz) and production values.
Twelve days before WWII breaks out, Giovanna (Loren) marries Antonio (Mastroianni), with no desire to fight in the conflict he fakes insanity in an attempt to avoid the draft. Officials see through the charade and Antonio is sent to the Russian front, where soldiers must endure unbearable freezing temperatures and a short supply of rations.
As the war ends, Antonio is left to die in the snow on the Russian front, but is found by a beautiful Russian girl who hides him and helps him recover. Giovanna refuses to believe that her missing in action husband is dead and travels to the sunflower plains of Ukraine – seemingly to the end of the earth, in by then post-war Russia – to search for the man she vowed she would never abandon.
Produced by Loren's husband, Carlo Ponti of Doctor Zhivago fame, Sunflower recalls Zhivago with its rich, wide vista production of this heartfelt drama of war torn lovers. Underpinned by Henry Mancini's Oscar'nominated rousing score and magnificently directed by one of Italy's greatest filmmakers, Vittorio De Sica (Bicycle Thieves, Two Women), who taps into his Neo-realist roots to depict the human tragedy of war-displaced persons as seen through the heroic determination of Loren's character.
Sunflower is presented for the first time in its entirety, featuring eight minutes of previously unseen scenes, and comes complete with an exclusive documentary Sophia, Yesterday Today Tomorrow, woven around an intimate interview with Loren.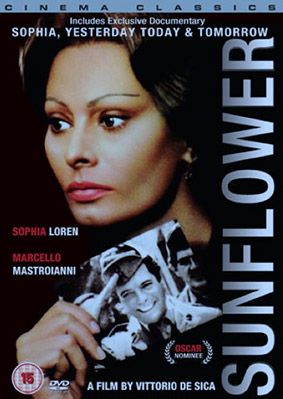 Sunflower will be released on UK DVD on 26th January 2015 from Argent Films at the RRP of £15.99. The film will also launch on iTunes the same day, with other selected VOD platforms to follow for rental and download.
Extra features on the DVD will include the following:
Sophia, Yesterday, Today, Tomorrow (54 mins) – Much more than a DVD bonus, this exquisite hour-long documentary is woven around an exclusive candid personal interview with Sophia Loren, which includes never before seen footage of Loren's life and features her family and many close friends such as Woody Allen, Giorgio Armani and many others.

Photo Gallery from the film and documentary

Argent trailer park
The DVD also comes with alternative language options: the English language version and optional Italian audio with new improved, switchable, English subtitles.
Only one question: why no Blu-ray version like the US release?