Three strangers (Scott Eastwood, Sara Paxton, and Katherine Waterston) encounter one another at a secluded forest cabin, each with different reasons for arriving. No matter how much they try, the three cannot escape the cabin. The three discover a secret and realise that their lives are interconnected. In order to get out of alive, they journey straight into a psychological nightmare.
The first film as director from producer Jack Heller, whose follow-up feature Dark Was the Night was well received at Screamfest,The Haunting of Black Wood was originally released in the USA as Enter Nowhere and was described by DVD Talk as "an enjoyable ride from start to finish," whereas Starburst said of it: "You know what it's like, you wait for one cabin in the woods type film for ages, then two turn up at once. Thankfully, this take on the premise is just as different and almost as twisty as the Goddard/Whedon affair." High praise indeed.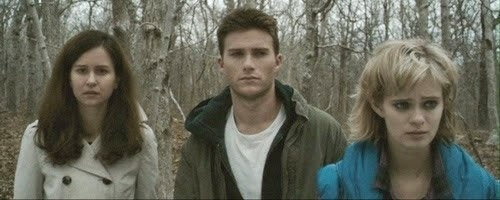 The Haunting of Black Wood will be released on UK DVD on 2nd February 2015 by Metrodome Distribution at the RRP of £14.99.
As is often the way with Metrodome discs, no extra features have been listed and we don't even have the cover art yet.