Arrow Films, the distributors of Gods Pocket, The Hunt, A Hijacking and Love Is All You Need, have announced the home entertainment release of the critically acclaimed Stations of the Cross, which will be available on demand & digital and on Blu-ray & DVD this very month.
14 year old Maria (Lea Van Acken) is a member of a strict branch of Catholicism that rejects all the reforms that were made in the Church since the 1960s. Maria lives her everyday life in the modern world, yet yearns to follow Jesus fully, to become a saint and go to heaven. Christian, a boy she meets at school, almost draws Maria away from her goal with an invite to join the school's gospel choir, but her strictly pious mother (Franziska Weiz) pulls her back in line, seeing his tentative approaches as a temptation to sin, along with participating in what she sees as the 'Devils music'.
Directed by Dietrich Brüggemann and told in fourteen individual tableaus that parallel Christ's journey to his crucifixion, Stations of the Cross [Kreuzweg] is both an indictment of fundamentalist faith and the articulation of an impressionable teen's struggle to find her own path in life.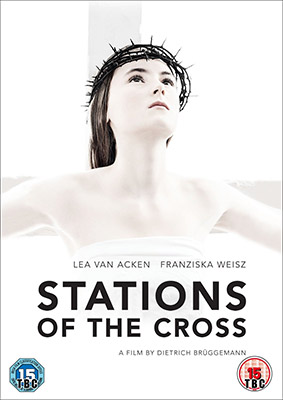 Described by the Evening Standard as "Passionate, generous, witty; Dietrich Bruggemann's study of a fanatical Catholic family renews one's faith in the power of slow art movies to change the world," Stations of the Cross will be released on UK DVD and Blu-ray on 19th January 2015 by Arrow Films at the RRP of £14.99 for the DVD and £15.99 for the Blu-ray (that's more like it).
No extra features have been listed.