Left Films have announced the UK and US DVD, Video on Demand and Blu-ray release of Ninjas vs. Monsters, the final installment in director Justin Timpane's comic-horror Ninja vs trilogy, which began in 2008 with Ninjas vs. Zombies and continued two years later with Ninjas vs. Vampires.
Executive Produced by Eduardo Sanchez (The Blair Witch Project, Lovely Molly, Exists), Ninjas vs. Monsters sees the wise-cracking Ninjas take on the world's most famous movie monsters in a reality-bending deathmatch to save mankind. Dracula has called upon legendary terror – Frankenstein's monster, the Werewolf, the Mummy, and a coven of gorgeous, deadly Witches – to wipe out the Ninjas and enslave the world. But the Ninjas have their own supernatural powers to battle this evil, along with their high-kicking kung fu skills, leading to an epic showdown.
The film has not been widely reviewed yet, but Reel Film News saidf of it: "While not quite Joss Whedon, Ninjas displays plenty of characteristics of a filmmaker who's sure to build a very long résumé, both as a screenwriter and director, in multiple genres."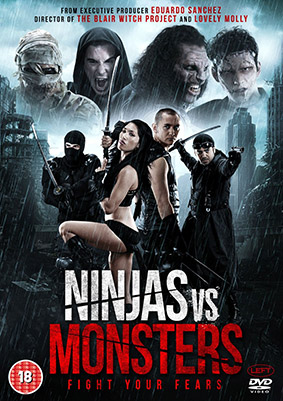 Ninjas vs. Monsters will be released on UK DVD, VOD and Blu-ray on 26th January 2015, with the US release following on the 3rd February 2015. UK retail prices are £12.99 for the DVD and £14.99 for the Blu-ray.
Extra features on both discs will include:
Auditions

Funny alternative ending

Tribute to executive producer Brian Anderson

Ninja vs. trailers

Trekoff trailer

Until We Drop Down Dead music video

Trilogy trailer

Director and co-producer commentary

NVM comedy commentary Trekoff
In addition, the Blu-ray edition will include a free bonus copy of Ninjas vs. Vampires, the complete 95-minute feature film (2011), in which the same characters took on an army of bloodsuckers to save the world.
NINJAS VS MONSTERS Trailer from Left on Vimeo.