Oscar and Mai Ramirez (Jake Macapagal and Althea Vega) decide to move their two daughters from the poverty-stricken rice fields of the Northern Philippines, and journey towards the capital mega city of Metro Manila. Upon arrival, Oscar and his family fall foul to various city inhabitants whose manipulative ways are a daily part of Manila survival. The intensity of the city begins to overwhelm them as Mai reluctantly takes employment in a local strip club, while the family winds up sleeping in a shack in the slum district.
A glimmer of hope appears as Oscar lands a dependable job as an armored truck driver and is befriended by his senior officer Ong (John Arcilla). Before long it becomes apparent that Ong has been planning the arrival of someone just like Oscar for some time.
The critically acclaimed and multi-award winning crime thriller Metro Manila, the third feature from British director Sean Ellis (Cashback, The Broken), was the biggest winner at the British Independent Film Awards 2013 picking up three trophies including Best British Independent Film and Best Director for Sean Ellis. It was also announced in September that Metro Manila has been selected as the UK's official submission in the Best Foreign Language Film Award category for the 2014 Academy Awards.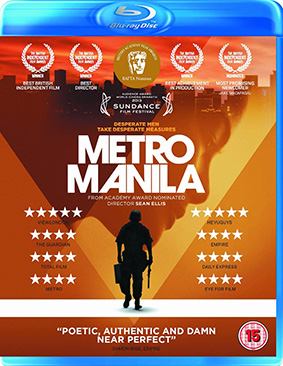 Described by Empire magazine as "poetic, authentic and damn near perfect," Metro Manila will be available video on demand on 17th February and DVD and Blu-ray on 10th March 2014 by Independent Distribution at the RRP of £12.99 for the DVD and a yet to be confirmed price for the Blu-ray.
Extra features will include:
Making-of featurette

Trailer