Nick and Meg, a married couple in their late-50s, are on a weekend trip to Paris to celebrate their anniversary and rekindle the flame. Things don't quite seem to be going to plan when home truths, broken dreams and financial realities begin to surface, but you never can tell what will happen in the City of Light...
Written by best-selling author and acclaimed screenwriter Hanif Kureishi (My Beautiful Laundrette, The Mother, My Son the Fanatic) and directed by Roger Michell (Notting Hill, Enduring Love and Kureishi's The Buddha of Suburbia), Le Weekend is, we are assured, a witty, poignant, honest and intelligent drama.
Starring Jim Broadbent, Lindsay Duncan and Jeff Goldblum, Le Week-End was described by Geoffrey Macnab in The Independent as "a barbed, funny and poignant comedy-drama" and Lisa Mullen in Sight & Sound as a film that "proves again that films made for grown-ups can be more nimble-footed and fresh-faced than anything aimed at the youth market."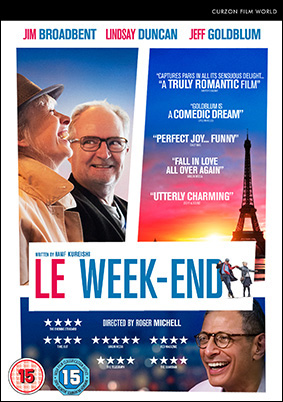 Le Weekend will be released on UK Blu-ray and DVD on 10th February 2013 by Curzon Film World at the RRP of £19.99 for the Blu-ray and £15.99 for the DVD.
Extra features will include:
Interview with Roger Michell and Jim Broadbent

Interview with Roger Michell and Hanif Kureishi

Director and Producer's Commentary

Theatrical Trailer