Eureka! Entertainment have announced the release of Wake in Fright, the legendary, long-sought-after Australian film, released theatrically at the BFI Southbank and cinemas nationwide in the UK & Eire and for the first time on home video in the UK. Directed by Ted Kotcheff, who later directed First Blood, the first Rambo film, Wake in Fright was the first film to have been screened at the Cannes Film Festival twice, first in 1971, the second time in 2009. This startling Australian companion to Straw Dogs and Deliverance, has been screened across the UK film festival circuit in 2013 and, following a UK & Eire theatrical release on 7th March 2014, will be released in a Dual Format (Blu-ray & DVD) edition as part of Eureka! Entertainment's award-winning The Masters of Cinema Series on 31st March 2014.
"Have a drink, mate? Have a fight, mate? Have a taste of dust and sweat, mate? There's nothing else out here." Balanced on a knife-edge between social realism and existential horror, this disturbing, subversive portrayal of Australia's cultural underbelly failed to find a wide audience on its original release, but has since become established as a seminal cornerstone of the Australian cinema.
A middle-class schoolteacher, stuck in a government-enforced teaching post in an arid backwater, stops off in the mining town of Bundanyabba on his way home for the Christmas holidays. Discovering a local gambling craze that may grant him the financial independence to move back to Sydney for good, the opportunity proves irresistible. But the bad decisions are just beginning and a reliance on local standards of hospitality in "the Yabba" may take him on a path darker than ever expected.
One of the many triumphs in director Ted Kotcheff's career, Wake in Fright effortlessly sustains the quality of a sun-baked nightmare, with a relentless forward drive and outstanding performances by Donald Pleasance, Gary Bond, Sylvia Kay, and Chips Rafferty in his final role. A brutal, gripping dissection of the limits of masculinity and amorality to stand alongside Straw Dogs, A Clockwork Orange and Deliverance, it remains a stunning entry in the envelope-pushing cinema of the early 1970s.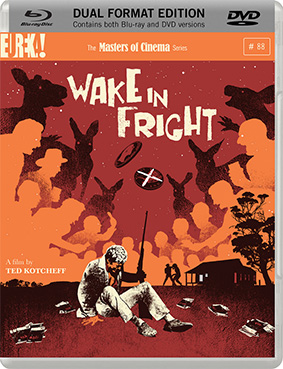 Described by singer, writer and actor Nick Cave as "The best and most terrifying film about Australia in existence" and Roger Ebert as "powerful, genuinely shocking and rather amazing," Wake in Fright will be released on UK dual format (DVD and Blu-ray) on 31st March 23014 by Eureka! Entertainment as part of the Masters of Cinema series.
Boasting a new high-definition 1080p presentation of the film from the 2009 restoration, the release will have the following extra features:
Audio commentary with director Ted Kotcheff and editor Anthony Buckley

A selection of video pieces, including new interviews and rare behind-the-scenes footage

Original US Outback TV spot

A booklet featuring writing on the film, its restoration, rare imagery, and more!