One of the most charismatic and inspiring voices of the post-war Left, Stuart Hall has profoundly influenced the academic landscape with his work in the field of cultural theory. Chronicling his life and career, The Stuart Hall Project is an intimate and engaging portrait from director John Akomfrah (The Nine Muses, Handsworth Songs). Highly acclaimed at this year's Sundance and Sheffield Documentary film festivals, and heaped with critical praise when it opened in UK cinemas in September, it will be released on DVD by the BFI in the new year.
John Akomfrah's portrayal of the life and times of this public intellectual follows him from his working-class beginnings in Jamaica through to his arrival as a Rhodes scholar at Oxford in 1951, where he co-founded the New Left Review, and his subsequent career as the UK's leading cultural theorist and architect of cultural studies at Birmingham University and later the Open University.
Using extensive archival imagery – home movies, family photographs and excerpts from Hall's many film, television and radio appearances – Akomfrah's filmmaking approach matches the agility of Hall's intellect. The film explores its themes of memory, race and identity through the juxtaposition of events from Hall's life and a discourse on the wider social and political events of the second half of the twentieth century.
Akomfrah's soundtrack features a wide range of music by Miles Davis, Hall's favourite musician, brilliantly chosen to reflect and comment on the film's shifts in mood and tone as it moves through decades of change.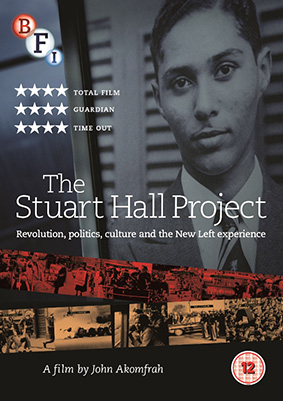 The Stuart Hall Project will be released on UK DVD on 20th January 2014 by the BFI at the RRP of £19.99.
Special features will include:
The Stuart Hall Project Q&A (2013): John Akomfrah and Baroness Young in conversation at BFI Southbank

John Akomfrah and Stuart Hall Q&A with Parminder Vir (2013): audio recording from the ICA screening of The Stuart Hall Project

Black and White in Colour Rushes (1992): interview with John Akomfrah recorded for Isaac Julien's Television, Memory, Race, from the BBC's "Black and White in Colour' season

Original trailer

Illustrated booklet including a newly commissioned essay by Mark Fisher