For the past five years, Choi Bo-na (Lee Si-young – Couples, Killer Toon) has been overworked and underpaid as a second assistant director for TV commercials. Sorely lacking social skills, self-confidence, fashion sense, and aesthetic polish, she is casually disregarded by her work colleagues and knows that her career is going nowhere but can't do anything about it.
One night she hits rock bottom. Stranded on a beach in the middle of nowhere after a grueling outdoor shoot, she comes across an eccentric middle-aged man selling inspirational videos. He urges her to buy his masterwork, "A Manual on How to Use Men," telling her that it will change her life, and give her the skills she needs to find success and happiness. She doesn't believe him for a second, but she buys the video. After reluctantly following the step-by-step instructions, Bo-na's life takes a drastic turn. She begins to experience professional success and men suddenly start flocking to her, including top star Lee Seung-jae (Oh Jung-se – King of Pigs, Behind the Camera, Petty Romance) who initially treated Bo-na with disdain, but later falls head over heels in love with her.
As offbeat titles go, director Lee Won-Suk's debut feature How to Use Guys with Secret Tips (which in its original Korean is the compound NamJaSaYongSeolMyungSuh, which apparently translates as "A Manual on How to Use Men") should be up for some sort of prize. It's found critical favour too, with Beyond Hollywood calling it "a bright and breezy debut that should be enjoyed by even the most jaded of genre fans."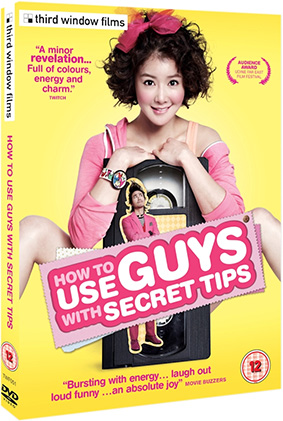 How to Use Guys with Secret Tips will be released on UK DVD on 27th January 2014 by Third Window Films at the RRP of £14.99.
Extra features will include:
The trailer below is the one supplied to us but the subs seem to have been lost in teh scope border area. A TouTube glitch?