Eureka! Entertainment have announced the UK theatrical release for the multi-award winning The Rocket, Australia's official selection for the Best Foreign Language Film category for the 86th Academy Awards, and debut feature from director Kim Mordaunt about a 'cursed' twin who guides his family to a new life in Laos.
Laos: A ten year old boy, Ahlo, who is believed to bring bad luck, is blamed for a string of disasters. When his family loses their home and are forced to move, Ahlo meets the spirited orphan Kia and her eccentric uncle Purple: an ex-soldier with a purple suit, a rice-wine habit and a fetish for James Brown. Struggling to hang on to his father's trust, Ahlo leads his family, Purple and Kia through a land scarred by war in search of a new home. In a last plea to try and prove he's not cursed, Ahlo builds a giant explosive rocket to enter the most lucrative but dangerous competition of the year: the Rocket Festival. As the most bombed country in the world shoots back at the sky, a boy will reach to the heavens for forgiveness.
Gripping yet heart-warming, The Rocket is a deeply personal story about the determination of a boy who has the odds stacked against him, set against the epic backdrop of a war-ravaged country on the brink of huge change. With remarkable access to real rituals and festivities in the stunning mountains of Laos, The Rocket is a unique view into a world never seen on film before.
Written and directed by Kim Mordaunt (Bomb Harvest), The Rocket features an extraordinary leading performance from gutsy former street kid Sitthiphon Disamoe as Ahlo, and veteran actor and comedian Thep Phongam as the damaged but humorous Purple, an ex-soldier who becomes mentor to the young protagonist.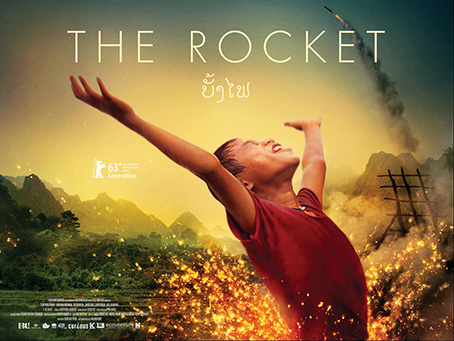 Described by The Upcoming as "truly an extraordinary movie...powerful, inspiring...a must-see for all the lovers of indie cinema, especially those who think they've seen it all," and Washington Square News as "a wonderfully executed film, with a gripping story driven by colourful, lovable characters," The Rocket will be released in selected cinemas nationwide in the UK and Eire on 14th March 2014 courtesy of Eureka! Entertainment.
Eureka! have provided the following biography of director Kim Mordaunt:
Kim is a graduate of the film production degree at UTS (University of Technology Sydney), and a diploma in acting from one of the UK's top drama schools LAMDA (London Academy of Music and Dramatic Art). Kim's experience as an actor has contributed to his extraordinary rapport with, and ability to communicate with, actors. His extensive documentary verite work, as both director and cinematographer, has honed his ability to paint fiction with truth and to shoot it in a way that feels very immediate and intimate.
Kim has lived and worked throughout Southeast Asia, in Laos, Vietnam and Thailand. He has taught fil-making and drama in Asian, Arabic and Aboriginal communities, and been a filmmaking mentor in refugee centres and prisons.

He made his first documentary 45 Years is Enough, during the fall of the Iron Curtain in Bulgaria, funded by the Soros Foundation (now the Sundance Fund), for Bulgarian TV. He then directed and shot long-form documentaries for SBS TV, ABC TV and Discovery (including Copyrites, Survival, Speed City).
His first drama short Mongrel's Ghost was invited to festivals including Los Angeles, Sydney, Bilbao and Sao Paulo. Next came the one-hour drama for SBS TV, Jammin' in the Middle E, called "priceless" by Sydney Morning Herald and "revealing, delightful, beguiling, brilliant" by The Australian.

His feature-length documentary Bomb Harvest (88 min) was theatrically released around Australia and was nominated for Best Documentary (IF Awards, ATOM Awards and Film Critics Circle of Australia Awards), Best Director (ADG Awards), Best Cinematography (AFI Awards) and won Best Feature (children's rights) at Hollywood's Artivist Awards. It was highly acclaimed by film critics and screened at over 20 international festivals, including a standing ovation at Sydney Film Festival. It was shown on TV in over 25 countries and at major global human rights events.
The Rocket is Kim's debut feature. He is currently developing two features with The Rocket's producer Sylvia Wilczynski, Zig Zag and Pink Mist.