Showcasing four decades of alternative cabaret and experimental performance in both the UK and US, This is Not a Dream is a lively new documentary exploring the development of the avant-garde and the radical side of fringe comedy from the early 1970s to the present day, highlighting performers who have introduced film and video into their acts, incorporating talk shows, soap operas and YouTube.
Beginning with Andy Warhol's first experiments with Portapak cameras, the film follows the video revolution of the 1970s into the interactive multi-media age which enabled avant-garde queer performers and artists to develop revolutionary new ways of communicating to their audience. It includes interviews with makers of a number of America's pioneering art works and performances including Vincent Fremont who shot video for Andy Warhol; Dara Birnbaum who subverted the Wonder Woman TV show; Glenn O'Brien the creator of TV Party which foreshadowed today's reality TV programmes; Vaginal Davis who made the punk Fertile LaToyah Jackson magazine show; Kalup Linzy famous for his cross-dressing role in US soap opera, General Hospital, alongside James Franco; multi-media artist Nao Bustamante who made interventions on the Joan Rivers Show; and Cole Escola, creator of one of the earliest syndicated web comedies.
The film also features prominent figures from the UK's alternative cabaret circuit who have also made an impact at Edinburgh Fringe and on national TV. Such names include experimental 'mess-maker' Scottee, renowned for his anarchic appearance with Rhianna on The X Factor; interactive performer and Time Out cabaret winner Alp Haydar; punk comedian David Hoyle, who found a wider audience with his The Divine David Presents... on Channel 4; female drag artist Holestar who made a spectacle of herself on Chatroulette; and drag fabulist Dickie Beau, who combines mime and commedia dell'arte skills to lip synch to famous movie star monologues. The film includes new video work by Beau made specifically for This Is Not a Dream's DVD release.
Directed by Gavin Butt and Ben Walters, This is Not a Dream charts the lineage of this revolution and its continued impact on contemporary art and performance with new interviews with all the performers as well as illustrated throughout by TV and film clips from across the decades. It offers an authoritative but entertaining voice to explore the vibrant, radical landscape of self-expression that continues to influence artists, musicians and actors alike.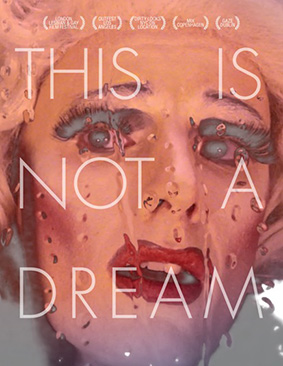 This is Not a Dream will be released on UK DVD on 23rd January 2014 by Crossovers at the RRP of of £12.50.
No extra features have been detailed.
This is Not A Dream - Trailer from Live Art Development Agency on Vimeo.
This is Not a Dream is part of the Crossovers DVD series of artists' films, documentaries and dialogues, commissioned by Performance Matters, to examine the history of performance art as it engages with mainstream TV, appears on the internet, as subculture, in stand-up comedy, and in avant-garde art. Other films in the series include Mel Brimfield's This Is Performance Art and Oreet Ashery's Party For Freedom, both available now.