Eureka! Entertainment have announced the home video release of John Dies at the End, the frenetic, freaky and action packed new film from Don Coscarelli, director of Bubba HoTep and Phantasm, based on the cult novel of the same name by author David Wong.
There's a new drug on the streets. Soy sauce promises users an out of body experience like no other as they drift across time and experience other dimensions. When slacker friends John and David, a pair of college dropouts who can barely hold down a job between them, try the drug they can see for the first time a horde of demons populating the globe, hiding in plain sight among normal human beings. What follows is a dark and hilarious adventure like no other as they battle the invaders and the stage is set for a gripping thrill ride as they attempt to save the world from this otherworldly invasion.
Can these two stop the oncoming horror in time to save humanity? No. No, they can't.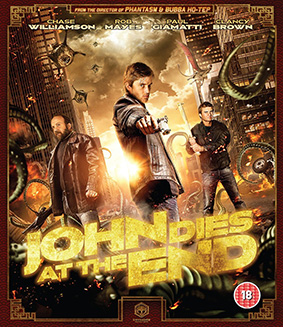 A personal favourite of some of us here at Outsider and described by The Onion as "A punk rock Ghostbusters by way of H.P. Lovecraft," John Dies at the End will be released on UK Blu-ray and DVD on 17th February 2013 by Eureka! Entertainment at the RRP of £9.99 for the DVD and £12.99 for the Blu-ray.
Special features will be exclusive to the Blu-ray version and will include:
Feature length commentary with cast and crew

Deleted scenes

Getting Sauced: The Making of John Dies at the End

Creature Corps: The Effects of Soy Sauce

Casting sessions

Fangoria Interview with Paul Giamatti

Trailer