Some of the greatest records of all time such as I'll Take You There, Brown Sugar, When a Man Loves a Woman, I Never Loved A Man the Way That I Loved You and Mustang Sally all have one in thing in common, they are just a few of the tens of thousands of pieces of music created at Muscle Shoals, a place alongside the Tennessee River, Alabama. Jimmy Cliff, Bob Dylan, Aretha Franklin, Etta James, Alicia Keys, Wilson Pickett, The Rolling Stones, Bob Seger, Paul Simon, The Staple Singers, Lynyrd Skynyrd, Percy Sledge and countless other stars have all been lured to this remote and mystical place in the backwoods of Alabama to work with the musicians and producers there.
In the critically acclaimed new feature documentary, Muscle Shoals, directed by Greg 'Freddy' Camalier, we are taken to a place filled with magic and music, legend and folklore where the river is inhabited by a Native American spirit, who has lured some of the greatest Rock and Roll and Soul legends of all time and drawn from them some of the most uplifting, defiant and important music ever created. In Muscle Shoals, music runs through the hills, the river, and the spirit of the people.
At the heart of this tale is Rick Hall, the founder of FAME studios, who created a haven for black and white musicians to come together in service of music. Doing so at the peak of racial hostilities, he shepherded the creation of songs and even genres that have become seminal while also giving birth to the unique "Muscle Shoals sound" and the rhythm section The Swampers.
The Swampers are the house band who made the very risky decision at the time to break away from Hall and FAME, to start their own studio known as Muscle Shoals Sound. Despite their relentless drive for success and perfection, this band's sense of humility and passion was never corrupted. Having played a part in innumerable hits, they were immortalised in the American anthem, Sweet Home Alabama where Ronnie Van Zant sings 'Now Muscle Shoals has got the Swampers...'
Raw and candid interviews, a rich and soulful soundtrack, live performances (that include a new recording by Alicia Keys at FAME studios of a Bob Dylan track originally recorded in Muscle Shoals), and the magic of the milieu itself capture and convey this tale. Through this amazing story and music, the viewer will be taken on a journey that begins in the backwoods of Alabama and unfolds the soundtrack to their life.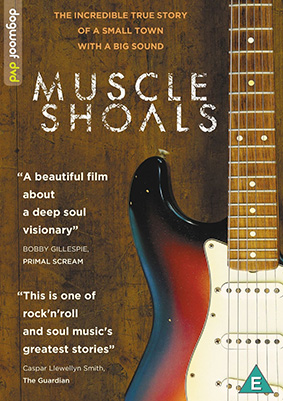 Described by Bobby Gillespie of Primal Scream as "A beautiful film about a deep soul visionary," Muscle Shoals will be released on UK DVD on 10th February 2013 by Dogwoof at the RRP of £14.99.
The substantial collecion of special features are:
Abstract Intro: Combining visual elements from reenactments of the native myth of the Singing River, W.C. Handy, and Helen Keller, this mysterious and intriguing segment was the original opening sequence to the film

Aretha Call Me Session: Jimmy Johnson describes the magical and emotional experience of watching Aretha Franklin record the song "Call Me" live in the studio

Harvey Thompson: Former Muscle Shoals Horn Section member Harvey Thompson plays some lively tenor saxophone licks in a local bar

Muscle Shoals Montage: Footage and location stills showcase southern culture, landscapes, and star musicians in the Muscle Shoals area

Recording in Muscle Shoals: Muscle Shoals musicians describe the special experiences and unique aspects of the recording process in Muscle Shoals

Spooner Oldham: Muscle Shoals Rhythm Section member Spooner Oldham plays the Wurlitzer and talks about his life experiences in the music business

Candi Staton: Singer Candi Staton talk about her life experiences in the music business

Swampers & Rick Reunion: Jimmy Johnson, David Hood, and Roger Hawkins sit down with Rick Hall in his office and share stories and thoughts about their lives and experiences together

Donnie Fritts: Musician Donnie Fritts talks about his life experiences in the music business