When Kelly (Antonia Campbell-Hughes – Bright Star) meets Vidor (Julian Morris – 24; OnceUpon a Time) on the dance floor of a Liverpool nightclub, the attraction is instant. After wandering through the night they find themselves at her flat, making love with a passion and urgency that neither had experienced before. Both Kelly and Victor are struggling to get by as best they can, while the people around them are choosing illegal lifestyles; she is escaping a brutish former lover, while he is being dragged into a world of drugs. It's when they make love that their darker instincts take over.
Kelly + Victor is a haunting, candid depiction of a young couple embarking on a passionate and transgressive love affair, adapted by director Kieran Evans from the acclaimed novel by Niall Griffiths. The film is set against the backdrop of a highly cinematic Liverpool, to a searing soundtrack featuring music by a host of acclaimed artists, including the Mercury Music Prize-nominated artists King Creosote & Jon Hopkins and Wild Beasts as well as the gifted guitar work of Bill Ryder-Jones (ex-The Coral).
It's a film that we have been intending to publish a review of for some time but appears to have fallen by the wayside due to disappearing reviewers. Maybe we can prompt one before the disc release. In the mean time you can watch our interview with writer-director Kieran Evans here.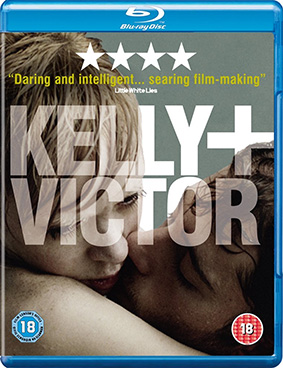 Kelly + Victor will be released on UK Blu-ray and DVD on 13th January 2014 by Verve Pictures at the RRP of £19.99 for the Blu-ray and £15.99 for the DVD.
No extras have been listed, which is a bit of a shame given that it's a home-grown product, but maybe that will change a little nearer the date.