For those of us who weren't that taken with James Wan's 2010 Insidious, his 2013 The Conjuring proved an altogether more effective haunted house horror. We knew it was coming on UK Blu-ray and DVD this month, but Warner do sometimes leave until the last minute to put their press releases out, and given that we rather enjoyed the film we feel onliged to pass it on.
Before there was Amityville, there was Harrisville. Apparently. The Conjuring tells the (supposedly) true story of world renowned paranormal investigators Ed and Lorraine Warren, who were called upon to help a family terrorized by a dark presence in a secluded farmhouse. Forced to confront a powerful demonic entity, the Warrens find themselves caught in the most horrifying case of their lives.
We've not got around to reviewing the film yet (Gort's been on holiday, and he's our horror man), but Empire called it "Genuinely frightening" and CineVue said of if "the traditional tropes are as fresh as ever in what is an unnerving, albeit kitsch horror of remarkable finesse."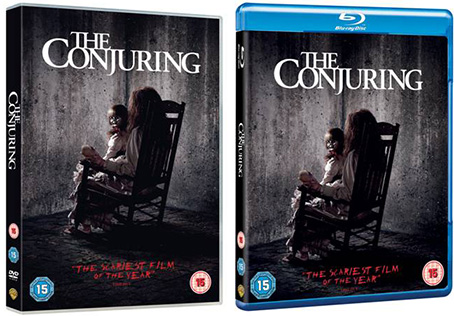 The Conjuring will be released on UK Blu-ray, DVD and digital download on 9th December 2013 (yep, next week) from Warner Bros. Pictures at the RRP of £25.52 (is that right?) for the Blu-ray and £20.42 for the DVD. A bit pricey, I'd say.
If you're into extra features then the Blu-ray definitely offers a better selection:
The Conjuring: Face-to-Face with Terror – Be there as the real Perron family returns to the mysterious farmhouse that they shared with diabolical spirits for nearly a decade and relive the horror as the memories come flooding back

A Life in Demonology – Journey into the world of the undead with renowned demonologist and paranormal expert Lorraine Warren as she hosts a graveyard tour and allows a visit into her occult cellar, which houses demonic, unholy and haunted relics collected from thousands of cases

Scaring the "@$*%" Out of You - Horror master, Director James Wan welcomes you into his world and gives an inside look at the secrets that scare the S@*% out of movie goers time and time again
The DVD only has the Scaring the "@$*%" Out of You featurette. Why can't they just write "scaring the shit"?