Well not literally, of course. Goats is actually the title of a 2012 coming-of-age comedy starring that David Duchovny fellow from The X-Files and the debut feature from director Christopher Neil.
Based on the novel by Mark Jude Poirier and from first-time director Christopher Neil, Goats centres around the story of fourteen year old Ellis (Graham Phillips), who is getting ready to leave his luxurious home in the foothills of Tucson for his freshman year at Gates Academy, an East Coast prep school. This means leaving behind Wendy (Vera Farmiga – Up in the Air, The Conjuring), his flaky, new age mother and the only real father he has ever known, Goat Man (David Duchovny).
At college Ellis discovers a whole new world opening up around him, with new friends and love interests competing with old problems – his dad, being one of them. As Ellis attempts to balance the conflicting relationships in his life, he realises that adulthood isn't going to be as straightforward as he hoped...
Featuring 50 Shades of Grey leading actress Dakota Johnson, Goats get a bit of a critical pasting but apparently found favour with audiences on its initial US release. One of the kinder reviews I've come across over at The AV Club called it "as amiably half-hearted as a hike through the desert with a giant bag of weed."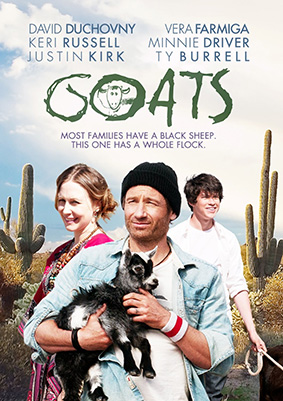 Goats will be released on UK DVD on 20th January 2014 from Koch Media at the RRP of £15.99.
Extra features? Not likely.