Well not you, specifically. You're Next, as many of you are doubtless aeware, is the title of a rather well regarded home invasion throwback horror from Adam Wingard (A Horrible Way to Die, The ABC's of Death) and written by regular collaborator Simon Barrett. And it's coming to UK Blu-ray in January. Hence the headline.
A lively reunion is abruptly brought to an end when a gang of mysterious killers, disguised in animal masks, wage an all-out assault on the Davison's secluded home. Using a series of sophisticated traps, axes, crossbows and machetes, the family are slaughtered one by one until nowhere is safe. But neither the attackers, nor their victims, have counted on Erin (Vinson); an innocent girlfriend who has the killer instinct to fight back...
Starring Sharni Vinson (Bait, Step Up 3D) in what the press release calls "her most kick-ass role to date" (what, prey rtell, is a "kick-ass role" besides a role in the film Kick-Ass?), and there are roles for filmmakers Joe Swanberg (Drinking Buddies, VHS) and Ti West (House of the Devil, The ABC's of Death) and horror/cult favourite Barbara Crampton (Re-Animator, From Beyond).
Critical opinon has been caustiously favourable, a regard summed up by Serena Whitney at Dread Central with the summing up: "Overall You're Next may not be the slasher film of the decade that will change the tone of horror, but it still provides a clever spin to the home invasion sub-genre."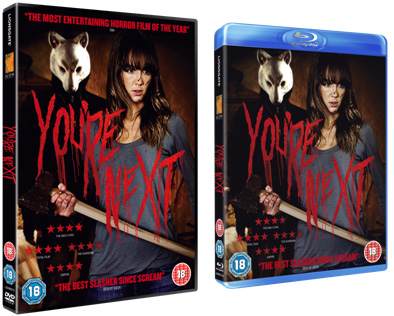 You're Next will be released on UK Blu-ray and DVD on 13th January 2013 by Lionsgate at the rather pricey RRP of £24.99 for the Blu-ray and £19.99 for the DVD.
Extra features will include:
Audio Commentary with Adam Wingard and Simon Barrett

Audio Commentary with Adam Wingard, Simon Barrett, Sharni Vinson and Barbara Crampton

No Ordinary Home Invasion: The Making of You're Next