Los Angeles, California 1978. Marco (Isaac Leyva) a disadvantaged teenager is abandoned by his mother. His neighbour, Rudy Donatello (Tony Award winner, Alan Cumming) hears the cries of the child and takes him into his home to look after him.
It's love at first sight when Rudy meets ambitious lawyer Paul Fliger (Garret Dillahunt) and a romantic relationship is forged; for Marco, this is the loving family he's never had. But when their alternative living arrangements are exposed, the family become subject to prejudice from everyone around them. The local authorities become involved and the family becomes embroiled in a fight against the biased legal system to keep the child they have come to love as their own.
Winner of numerous international audience awards and inspired by a touching true story, Any Day Now is an emotional, alternative family drama that touches on legal and social issues that are as relevant today as they were 35 years ago.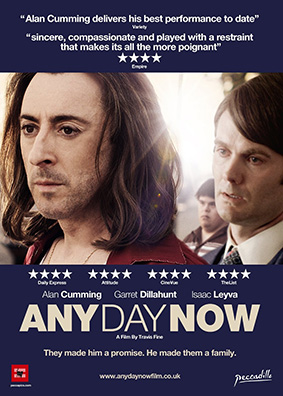 Any Day Now will be released on UK DVD on 13th January 2013 by Peccadillo Pictures at the RRP of £15.99.
The only extra features listed are UK exclusive interviews with Alan Cumming and Travis Fine.